Be Extra AF Even In Death With These Glittery Coffins
by Cassandra Stone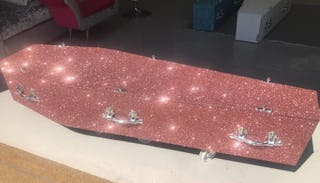 Image via The Glitter Coffin Company.com
Nothing says 'I have truly LIVED' more than a bright, sparkly coffin
Is there a more perfect send-off than letting every single mourner at your funeral know you've lived a fabulous, unapologetic life? There is truly no better way to convey this message than by doing so via glitter coffin. If a coffin could talk, these would totally say "Ciao!"
They're extra AF and we all need one. Not, like, soon, hopefully — but we all need one just the same.
Do you have a crazy aunt that loves being the life of every family gathering? You know, the kind who drinks wine with ice cubes and tells everyone about her sex life over Christmas dinner? Or maybe you are that aunt. Either way, The Glitter Coffin Company is here for all the crazy aunts of the world who know death should be just as fabulously fitting as a life well lived.
These are no ordinary pine boxes. No, no, no. These sparkly caskets are like a Liberace costume come to life. Er, death. It only sucks you won't be around to enjoy everyone's reaction.
"Our stunning coffins are a beautiful way to reflect and celebrate a person's life," The Glitter Coffin Company says on its website. Each coffin is made-to-order and they come in a variety of glittery options and hues.
"Our stunning glitters are made up of a chunky crackle glitter which catches the light beautiful giving the ultimate sparkle effect on a sunny day or when the light catches the glitter flecks."
Listen, if I can't bid "arrivederci" to this life in chunky crackle glitter, then what the hell is the point of being here?
The Glitter Coffin Company ships worldwide, so if you've got the cash to blow when you kick the bucket — you're in luck.
Oh, and if you're not into being buried six feet under, the company also offers a variety of glittery ashes boxes as well.
If you want to go out with a sparkly bang but still want to keep your carbon footprint intact post-mortem, don't worry! Each coffin and box for ashes is environmentally friendly.
"Our glitter coffins have passed the FFMA coffin testing requirements for them to be able to be used for cremations and burials," the site says.
The glitter chards used do not give off any emissions when cremated and are totally biodegradable over time when used in traditional burials.
If you're not sure which shade of sparkle you wish to spend eternity with, The Glitter Coffin Company has you covered — every possible coffin color you could want is available.
One thing about being dead is that it doesn't matter if you're comfortable. But why sacrifice it? Check out the interior of these bad boys, which is just as fitting as the outside.
Death is so…final. Awful. Heartbreaking. If I'm lucky enough to anticipate it after a long life, I will take it as my personal mission to ensure no one leaves my funeral sober or sad. Sign me up for a purple coffin, a teal ashes box, and an open bar. Cheers!
This article was originally published on