Glitter Highlights Are Here To Help You Ring In The New Year With Style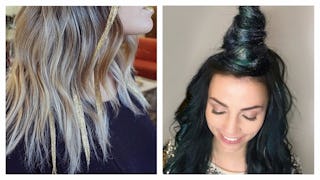 Image via Instagram
Glitter highlights are the newest hair trend, and we're in love
New Year's Eve is coming up, which means combing through the closet trying to find an outfit you'll feel cute in but also has enough breathing room for some mozzarella sticks and a couple glasses of bubbly. Sequins and shimmer are obvious picks for party frocks, but what if I told you there was a way to make your hair the show-stopping part of your NYE look?
We all know that hair stylists work miracles behind the chair. But for NYE 2017 they're gifting us with something even more dramatic than Kim K's overnight transition from dark brunette to icy blonde.
Behold: glitter highlights.
And here we all thought that mermaid colored tresses was the closest we could get to being living fairy tale characters. The process is called glitterage. It's painted on by hand, like highlights or bayalage.
Sadly, glitterage is temporary, and lasts only a shampoo or two. So like Cinderella, you get to have your one night of looking fabulous, but come the morning (assuming you've showered) you're back to your messy bun and lounging around the house t-shirt and PJ pants. Still, the sparkle's well worth the effort, even if it doesn't last forever.
If you've got a coveted appointment with your stylist this week, why not change it up from the usual cut you always get? And the bonus of glitterage over those bangs you keep debating? You'll never regret glitter.
Think about how cute your New Years Eve pictures could look.
You can be totally festive, but still wear jeans and comfy shoes. WIN.
If you can't snap an appointment at the salon (let's face it, time with a stylist in December is almost as precious as a Hamilton tickets) don't stress. You can still out-sparkle everyone. Channel your inner middle schooler and grab a can of glitter hair spray. (Just be sure to spray it outside, unless you're looking to give your bathroom a Mariah Carey inspired makeover. Remember you're the one who has to clean up now.)
Or raid the craft bin and mix glitter with some hair gel. It doesn't have to be perfect, just good and sparkly.
When your night of living like a pop star from the neck up is over you can wash away the sparkle and resume your regularly scheduled, boring hair life. But the memories (and photos) will last forever.