Round Up Your Friends And Go To Portland. Trust Me.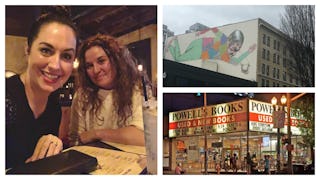 Samantha Angoletta Joelle Wisler Powells.com
Portland, Oregon. This beautiful city takes the word "unique" to an entirely different level. Portland embraces just about everything, but it's especially fond of beer, strangely small things like KFC and parks, alternative lifestyles, and really amazing food.
Here are some of the stranger things that you might not know about Portland:
There is an dormant volcano within the city's limits.
The carpeting in the Portland International Airport is famous. I've been known to take pictures of it myself.
Every year, Portland hosts a World Naked Bike Ride.
There are more micro-breweries in Portland than anywhere in the world.
And there are miniature toy horses all over Portland, because really why not?
Portland is weird and bizarro and full of life and I love it. A few of the Scary Mommy editors recently took a trip to Portland to find all of the best things in the city and here is our list.
Known as the world's largest independent book store, Powell's is absolutely huge. I could have curled up in there for at least a decade and been perfectly content.
If you want to live in luxury for a few nights, stay here. No, really. This hotel exceeded all of our expectations and our expectations were about fourteen floors up where our room was.
Amazing food, cozy environment, friendly staff, and they let us sit there and laugh and eat and drink for about five hours without making us feel bad, so two thumbs all the way up.
This restaurant is located in The Nines hotel where we were staying. So obvi we ordered breakfast in bed two days in a row. WORTH EVERY CENT. The Eggs Benedict is a must.
We went here and did the Seasonal Special which was a 60-minute massage, warm oil scalp massage, mini-facial, and then a tea and treat in the cafe. We walked out of there feeling like we had celebrity status. And if anyone ever asks you if you want a warm oil scalp massage, you tell them yes.
Also, they take their tea very seriously.
If you like delicious Mexican food and margaritas that will make you want to dance, go here. It was one of those nights where everything went our way. We walked into the incredibly busy restaurant, were seated right away, margaritas served up, and warm chips and guac placed in front of us. You will go here and be happy, I guarantee it. In addition to the guac, you must try the brussel sprouts. Yes, I'm serious, and you'll thank me later.
If you like massage and have never had an ashiatsu massage before, you really need to try it. In ashiatsu massage, they use their feet to massage you, which sounds totally, well, Portland. But it was one of the best massages I have ever had in my life, hands down. The therapists hang onto these bars for balance and, I don't even know what they do, but I rolled out of there feeling like a new woman. Amazing experience.
And then, if you need to shop, because who doesn't, you can head over to Sephora and Blue Mercury for all of your skin care needs and then, of course, Anthropologie These seem requisite for a girl's weekend, at least for us, and they were all located downtown, near our hotel. Score!
At the end of our visit I bought my kids some journals from Powell's City of Books. My daughter declared hers to have Love Llama's painted on it.
She then decided to write down everything that she loves, including this:
I could see her living in Portland someday for sure. I can't wait to go back! Pip's Doughnuts is first on the list.
Editors may receive samples, discounts, and/or a share from purchases made via links on this page. All opinions are our own.