God Is Banned From Facebook, And Swiftly Reinstated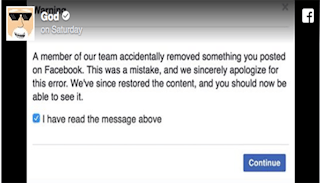 After being banned by Facebook, God is back on social media
If there were any question that Mark Zuckerberg and the archangels of Facebook want to run the world, the banning and subsequent reinstatement of God on the social media platform ought to remind everyone of who's really in charge. While God might not be safe from the wrath of Facebook, his swift reinstatement shows that hell hath no fury like millions of social media fans who want their deity back.
Last week, God – the verified Facebook page with more than three million followers – posted the following: "Dear Americans, Stop making your military so damn huge and give people medicine and education because you're sick and stupid. Thanks, God."
Two days later, God was slapped with a 30-day ban.
The page is known for its hilariously cutting and progressive posts that showcase the irony of many of America's (un-Christian) policies, particularly with respect to politics and social justice, and it's no stranger to the ire of folks whose faith must also forbid humor, along with women's health rights and universal healthcare.
But while God (the deity and the Facebook page) is no stranger to complaints and criticism – hell, God has been listening to humans complain for millennia – God (the page) was surprised when he was put in Facebook jail.
God, being God, wasn't having it though. "I posted this opinion on the day it was announced that Obamacare will be defunded and 24 million people will lose their healthcare," he said in an article on Good. "The opinion goes viral, gaining over 100,000 likes and 15,000 shares. A few hundred people disagree with the opinion. Rather than move on, or even use the 'angry' reaction face, what do they do? They report the opinion as being offensive."
He even called in for reinforcements from Jesus and Moses.
The next day, the ban was lifted. Because obviously you don't fuck with God.
"Today I was notified by FB that My Account has been restored! THANK YOU, HUMANS! I am sure that the huge response from you yesterday was the difference in achieving this so quickly," God wrote.
"YOU. YOU ARE AWESOME."
Aw. He is a forgiving god. Just don't ban him from Facebook.
This article was originally published on