Golden Girls Action Figures Are Here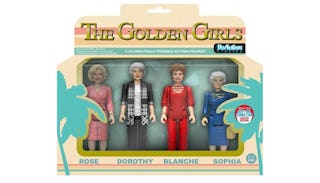 Image via Funko
Comic Con to debut Golden Girls action figures this weekend
Comic Con is happening in New York this week and when you hear one of the exclusive toy sets they're debuting you'll wish you had tickets. This is not a drill, ladies. A set of Golden Girls action figures will be featured. And we need them. Now.
According to New Now Next, toy company Funko is letting fans in on a New York Comic Con exclusive: a set of Golden Girls ReAction Figures including all our favorite funny ladies. The Rose, Dorothy, Blanche and Sophia figures will be sold only to those who won the lottery for access to Funko's Comic Con booth, and those with access have a strict one-item limit.
Behold. In all their 1980s Miami-senior-citizen-outfitted glory.
But — and this is a big and exciting but — they're also available right this freaking minute on Target's website as an online exclusive. Those attending Comic Con get first crack, but you can get them too if you pay shipping and wait a couple of days.
Hold up, placing my order.
OK, back. Check out the amazing detail on the fabulous four. Blanche looking all sly and sexy in her red lounge wear, sweet, innocent Rose in a cute, pink wrap-dress, Dorothy having absolutely none of your shit as she sports sensible shoes and her signature dour expression. But it's Sophia who steals the show with her infamous purse in hand, ready to smack someone upside the head. They're all just too perfect.
Oh, and we can add them to our Golden Girls LEGO set.
It's pretty wild how popular the show and its beloved characters have become more than two decades after the last episode aired. Golden Girls has definitely achieved cult status over the years among its dedicated fans. Funko's marketing director Mark Robben told ABC News, "The response to our Golden Girls products has been wild." He says, "We almost weren't prepared for the excitement. We created these as a passion project initially, and were blown away when it started trending on social media."
Uh, really? Because we're pretty damn excited about this and that reaction is a complete "no duh" to anyone who grew up watching these hilarious women. As a kid, I didn't catch a lot of the sexual humor and the more sophisticated jabs Dorothy and Sophia threw at poor Rose, but I get them now. It's like watching the series for the first time. And happily, we can enjoy them with our very own tiny Golden Girls to act out scenes before our very eyes. What a time to be alive.
As moms, we have to take our fun where we can get it. And this is the brand of fun a lot of us could use during these difficult times. An evil turnip is trying to take over our country, clowns are chasing kids and we wake up every day and have to be adults. But at least we can hold Blanche, Dorothy, Sophia and Rose in the palms of our hands and feel, if only for a few minutes, that everything is going to be alright.
This article was originally published on