'Golden Girls' Chia Pets Exist Because The Universe Wants Us To Be Happy
by Julie Scagell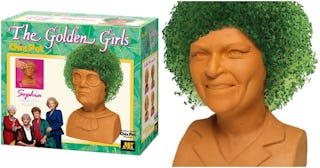 Amazon
The 'Golden Girls' Chia Pets are sold separately but you'll want all four
If your decor needs a sassy pick-me-up to get you through to Halloween, look no further than a Golden Girls Chia Pet — because nothing says "I'm classing up this joint" more than Dorothy's head sprouting a green bush centered on your living room table.
Amazon is selling these little slices of heaven, and to be honest, harvesting our very own crew of bushy Miami seniors, (Blanche, Dorothy, Rose and Sophia are all available), sounds like the best idea of all time aside from endless cheesecake-filled vent sessions. You're probably gonna want the entire collection, or maybe just focus on one member of the crew. Dibs on Sophia.
Oh hello, Blanche Devereaux.
The planters come with three packets of chia seeds, a plastic tray, and, although they come with six-step care instructions, we won't hold that against them because these ladies are worth the headache. According to the site, they have full growth within one to two weeks, which means they'll match my legs during the winter solstice.
It's good to know Dorothy's still not here for anyone's shit:
Fans have been in love with these four since the show first aired in 1985. During its eight-year run, people began to see themselves in one of the characters, dreaming of someday being able to live with their BFF's in a retirement community and enter into the shenanigans of old age. Now, with the show being aired on Hulu, YouTube, and Amazon, new generations of people have grown to love them, too.
The show, though a comedy, also tackled serious issues like HIV/AIDS, gender discrimination, misogyny, sexual harassment, death, addiction, and so much more. The show gave a voice to that generation of women and highlighted the importance of women lifting each other up and being there for one another. It was a classic and what better way to honor these ladies than by watering and feeding their heads until they bloom into a green bush for all to enjoy.
The Chia Pets are each sold separately but it's probably important to keep the ladies together because that's how they're most comfortable, and who are we to argue with perfection? In fact, not only are there Golden Girls Chia Pets to adorn your home, you can get everything from Golden Girls PEZ dispensers, granny panties (because who doesn't want one of those faces covering their lady bits), and even an entire Golden Girls-themed cruise you can go on with all of your friends complete with a "One Night in St. Olaf Dance Party."
Go ahead. Make Rose proud.
The Golden Girls Chia Pets sell for between $11-$17 depending on which lovely lady you choose (for some silly reason, Dorothy is cheapest) but frankly, those are bargain prices for what's surely to become a treasured member of your household. Here's hoping Golden Girls-themed products continue to become available for a very, very long time.
This article was originally published on