OMG: A Golden Girls-Themed Cruise Exists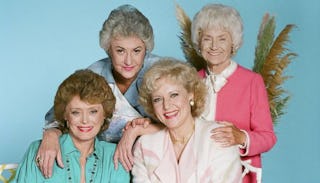 Image via FlipPhoneEvents.com
Is there anything better than a Golden Girls themed vacation?
If you're trying to get through these last dreary weeks of winter by fantasizing about your next vacation, you're in luck. Because there has never been a more promising vacation than this one — a Golden Girls fan cruise that will set sail this month. It's time to grab a friend and get to planning!
Though Golden Girls went off the air in 1992, the fandom and culture surrounding the show is very much still going on. It's just one of those shows that, save for the wardrobe, is completely timeless. From the life lessons to the feminism to the cheesecake — Golden Girls prevails through the decades.
Which is why this cruise promises to be everything any fan could ever want and more. Sponsored by Flip Phone Events, the Golden Girls Fan Cruise is a five-night high seas adventure departing from Miami, Florida (ahem, as any good fan knows, is home of the Golden Girls) and visiting Key West and Cozumel. This month's cruise is already booked solid, but great news, another will set sail April 5, 2021 to April 10, 2021. Payments for that cruise are due June 1, so get moving on that and secure your spot.
A cabin on the cruise will cost about $1,000 per person. Which is more than a bargain when you factor in all the fun you're going to be having. The cruise's programming is chock full of activities specific to celebrating the Golden Girls.
There's a "Rusty Anchor Karaoke Party" (remember when Dorothy outshined Blanche for once by being the better singer?). There's also a costume contest plus dinner, which is an amazing excuse to wear your drapey-est fabrics and biggest shoulder pads and don a grey wig or two. And who would want to miss out on the "One Night in St. Olaf Dance Party?" There's also trivia during the day, "Sophia's Craft Corner," bingo, and a "Caftan + Cheesecake" sail away party.
Chad Kampe, who runs Flip Phone Events, says he knows the Golden Girls fandom is alive and well — even nearly 30 years after the show ended. "Honestly, the Golden Girls fandom is large and diverse," he tells Hornet.com. "I believe everyone can relate to the show's message of love, acceptance, and cheesecake."
Kampe, who used to host a "Golden Girls Bar Crawl" in his home base of Minneapolis, also discusses the diverse the fan group for the show. "The Golden Girls Bar Crawl audience was a wonderful mix of gay and straight fans," he says. "I already have a lot of interest [about the cruise] from folks who want to bring their parents, as they watched the show together."
The show itself was groundbreaking for so many reasons. It was utterly unapologetic about four women living their golden years together while still leading full, sexual, happy lives. While the show was a comedy — and boy, it did comedy so well — it also tackled serious issues like HIV/AIDS, how women tend to be taken less seriously at the doctor's office than men, sexual harassment, relationships that featured people of all orientations and backgrounds, addiction, and so much more.
"The show still resonates to this day," Kampe says. "Sophia's one-liners always land, and it feels fresh and different." Ain't that the truth.
Hurry up and book your passage now, and save money on alcohol packages and gratuity perks. You can even bring along your best Golden Girls swag so you really look the part. Now grab a friend, get ready to throw a party on the high seas, and afterward, you both can thank each other for time well spent.
This article was originally published on