Golden Girls Granny Panties Are What You're Buying Your BFF This Year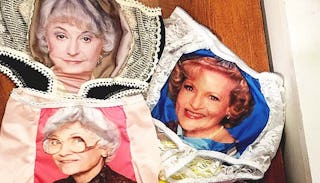 A Utah housewife just brought new meaning to the words "granny panties" by emblazoning the images of our favorite lady friends (The Golden Girls, of course) on the front of some satin panties with serious coverage. These are the perfect gift for that exhausted mom friend of yours. Nothing says, "there's nothing going on tonight but a Netflix marathon" like Bea Arthur's face on your crotch.
Candice Pugh's Etsy store, Bulletsandbees has seen a serious increase in sales since these babies made the store.
There's Dorothy:
Want.
Rose:
Set on a demure white rose lace background, of course.
Sophia:
My personal favorite. High-waisted and super sassy.
Blanche:
Who doesn't want Blanche Devereaux crotchless panties? Honestly, is this not the best holiday gift, ever?
Tomorrow is the official first day of the holiday shopping season, right? Who wants to leave the house? At roughly $50 a pair they are a little pricey, but you can't skimp on this kind of craftsmanship. "I've been day dreaming about making these for a while," Pugh, who lives in Salt Lake City, told The Huffington Post. "I finally just found time to whip them up." She says she's gotten 90 orders in the last 24 hours alone. Methinks she's about to get a lot more.
If the squad that started all squads isn't your thing, she's also selling these:
Hey, girl.
This article was originally published on