These Golden Girls 'Granny Panties' Are Everything You Need Right Now
by Julie Scagell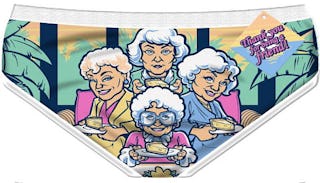 Image via Etsy/Harebrained
Now these are some 'granny panties' everyone can get behind
For those of you who love the Golden Girls (and honestly, who doesn't?) this is your lucky day. Depending on your age and mood, these new Golden Girl-themed underwear can be your go-to for a laugh, your period week, a Netflix marathon, or, well, every single day.
Yes, ladies, your dreams have come true. Introducing the granny panties that are actual Granny Panties Briefs. According to the Etsy shop Harebrained, these magical briefs are 95 percent cotton and 5 percent elastane but enough about that you can own a pair of panties with all four Golden Girls printed on your ass.
That's right friends, beloved characters Blanche Devereaux (Rue McClanahan), Rose Nylund (Betty White), Dorothy Zbornak (Bea Arthur), and Sophia Petrillo (Estelle Getty) will literally follow you around all day because, well, they don't really have a choice in the matter. Anyone who sees your ass won't be able to help but smile because the Golden Girls bring joy (and a slice of pie) everywhere they go.
The sizing of their underwear "runs approximately a size small, so we recommend sizing up," the site notes. Helllloooo, they're granny panties, of course we're going to size up. The bonus? Every pair of undies comes with a tag that says, "Thank you for being a friend."
For those of you thinking, "enough with all the Golden Girls shiz already," you need to put yourself in a timeout because you've obviously lost your perspective. Sure, there are Golden Girls prayer candles and hot sauce. Hell, you can even own an entire set of Golden Girls action figures. But to my knowledge, I've never seen a pair of undies donning all four lovely ladies proudly on the rear.
If I had one teeny tiny suggestion, it would be for them expand their line to include each individual Golden Girl on their very own pair, because women need options. One day we may be feeling a little feisty and need some 'Blanches Britches' and the next we might feel a little more 'Dorothy's Drawers.' And who doesn't need a pair of 'Sophia's Skivvies' in their lives?
Everyone. That's who.
So ladies who wear underwear, dig into your wallet or deep within your couch cushions for $12.99 and place your orders. These puppies are bound to run out soon and you and your ass don't want to be left behind.
This article was originally published on