These 'Golden Girls' Hot Sauces Are Literally All You Need Right Now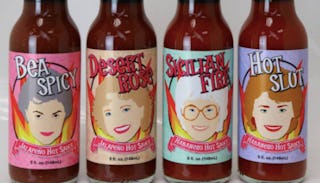 Image via Always Fits
Golden Girl hot sauces are real and our prayers have been answered
If ever you were thinking to yourself, "You know who I think of when I think of hot sauce? The Golden Girls," today's your lucky day. There's a website that sells a Golden Girls-inspired line of sauces you will want to order immediately.
Always Fits is a woman-owned, women-run business created in 2009 that sells hilarious accessories for the home, office, outdoors, kitchen and bar, and, well, just about anywhere. And now they're selling hot sauces based on our favorite friends because sometimes the universe smiles down on us.
According to the site, if you want to "be a bad-ass, fire-breathing, hot sauce swigging friend," they've got you covered. The sauces are named after the beloved characters Blanche Devereaux (Rue McClanahan), Rose Nylund (Betty White), Dorothy Zbornak (Bea Arthur), and Sophia Petrillo (Estelle Getty) and we're here for them all.
There's a hot sauce for whatever mood strikes, including Bea Spicy, Desert Rose, Sicilian Fire, and (right in time for Valentine's Day) Hot Slut. Desert Rose and Bea Spicy are their jalapeño hot sauces and if you're really feeling daring, the Sicilian Fire and Hot Slut are habanero-based sauces. "The heat level of Sicilian Fire and Hot Slut is: HOT." Buyer be warned.
Each bottle is $10 or you can splurge and get the four pack for $32, plus shipping. If hot sauce isn't your thing, you know you have at least four friends who fit the description on these bottles and are obsessed with all things Golden Girls.
My friends and I have elaborate discussions about Golden Girling (yes, it's a verb) in our elder years. We also routinely argue about which of us is what character — conversations that usually end with, "What? No, I am not Dorothy!" and "Remember we went to college together. You wish you were Rose." Said in the most loving way possible, obviously.
Thanks to Always Fits, we can try them all out if we're feeling a little Blanche one day and Sofia the next. And if you need even more Golden Girls in your life (and who doesn't), the website also sells prayer candles in all four characters, a makeup bag, board games, and even a stylish umbrella, for those days when it's raining and you really need a friend.
And if you threw a party and invited everyone you knew, you would see the biggest gift would be from me and they will be these hot sauces because I just bought four packs.
This article was originally published on