A Golden Girls Lego Set May Be Coming To A Store Near You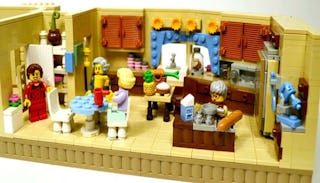 Legos: the bane of every parent's existence — until now, that is. Thanks to a superfan, a Golden Girls lego set may soon be a thing — if enough people vote for it.
Lego Ideas allows designers to create models for new Lego sets. The models are photographed and uploaded to Lego's site and fans can vote for sets they would like to see produced by Lego. 10,000 supporters qualifies the project for review.
The set contains the foyer, living room and kitchen. It's built like a TV set, with one wall removed for full viewing. It comes with five minifigures: Dorothy, Rose, Blanche, Sophia and Stanley. The description on the ideas page says "it has been meticulously recreated to have opening cupboards and fridge in the kitchen, wicker sofa and chairs… and an outdoor area with potted plants and a hose." The designer has recreated some famous scenes, including Dorothy playing Grab the Dough:
…and the visit from Burt Reynolds:
Do your kids want to play with a replica of some sassy senior citizens? Who cares? Does everything need to be about the children? This is clearly karmic retribution for all the Legos we've stepped on in the dead of night. The universe is rewarding us.
I'll gladly teach my kids the importance of sarcasm and comedic timing with this set.
I'll take two.
This article was originally published on