If You Need Us, We'll Be Playing With This 'Golden Girls' Magnet Set
by Leah Groth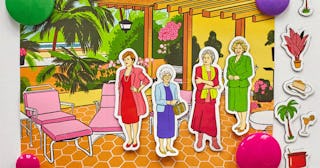 Always Fits
'Golden Girls' magnets are literally the most exciting thing since 'Golden Girls' Chia Pets
It's been nearly three decades since the last episode of The Golden Girls aired on NBC, and we are still obsessing over Blanche, Dorothy, Rose, and Sophia like it's 1992. In fact, Golden Girls-inspired products seem to be more popular now than they were when the girls were in their heyday, from Golden Girls Chia Pets, Christmas ornaments, costumes, and PEZ dispensers to Golden Girls cereal, Monopoly game, and hot sauce. Want Golden Girls granny panties? You can buy those, too. Seriously, the list is endless. And just in time for the holidays, we've discovered a new, must-have Golden Girls product: The Golden Girls magnet set.
In addition to magnets featuring each of the ladies, the kit includes dozens of the characters' favorite accessories, including a teapot, boozy beverages, ice cream, and, of course, cheesecake. The kit also comes with an illustrated backdrop, so you can build your favorite Golden Girls scenes, like the lanai and kitchen! And for a little extra fun, it comes with a 32-page book featuring character profiles, fun facts, and quotes, complete with full-color images of your favorite Miami ladies.
https://www.instagram.com/p/B4VzbXcJOww/
You can use your Golden Girls magnet set on your fridge, in your office, or any magnetic surface for that matter. All you need is a little creativity, and you can basically play Golden Girls like paper dolls.
While you are ordering one for yourself, you might as well buy it for literally every Golden Girls fan in your life. It makes the perfect white elephant gift, secret Santa present, or stocking stuffer.
To make your day even better, here's another exciting fact: the set is available on Amazon for just $7.38. They are obviously very popular, as the online retailer claims they are the No. 1 seller in the "Fashion Craft" category, which consists of items such as sewing books and fashion coloring books.
What are you waiting for? Get to shopping, Golden Girls fans!
This article was originally published on