Golden Girls Monopoly And Clue Exist And They're On Super Sale Today
by Jerriann Sullivan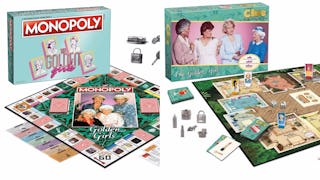 Images via Amazon
Host the best game night with 'Golden Girls' Monopoly and Clue
Call your best girlfriends because your game night is about to be amazing — "The Golden Girls" Monopoly and Clue games are 40% off on Amazon right now.
Whether you're a Blanche, Dorothy, Rose, or Sophia, you'll love these games. The officially licensed Golden Girls merchandise uses the overall structure of Monopoly and Clue while paying homage to the iconic show.
Instead of solving a murder, your game night crew has a different mystery to unravel — who ate the cheesecake? Follow up questions include, what item did they leave as evidence on accident and where did they commit the cheesecake crime? Plus, you get to be your favorite Golden Girl. I call Sophia.
The Monopoly game has most of the rules from the classic so expect a long night. But the Golden Girls version changes up the property names and features more great details from the show. So, Park Place becomes Hollingsworth Manor. The game will surely help you and your friends remember your favorite moments from the Emmy award-winning show.
The tiny pieces that represent players on the board are special Golden Girls references: Sophia's purse, Stan's toupee, Blanche's hand mirror, Rose's teddy bear, candied herring, and a cheesecake. The Golden Girls Monopoly game has some reviews on Amazon, and most folks gave it five stars (the highest ranking). "Love this game and to play it Golden Girls style adds to the enjoyment! Love buying properties like Shady Pines and Blanche's bedroom. The TV show may be over, but the fun goes on! If you're a fan of the Golden Girls, you'll love this game. Get it, you'll be glad you did," one reviewer wrote.
Both games were marked down to under $25 each, but we're not sure how long supplies will last since Golden Girls fans love their themed merchandise. Grab one (or both) and a cheesecake and your next game night is practically planned.
This article was originally published on