Thank Your BFF For Being A Friend With This 'Golden Girls' Monopoly Game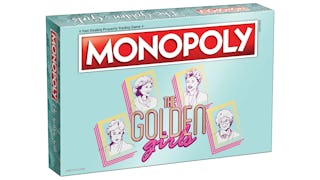 Image via Amazon
This Golden Girls monopoly game is going to take game night to a whole other level
Winter should be spent curled up at home, with hot drinks, good company, and all the board games. If you want to take those cozy nights to a whole other level, invite Dorothy, Blanche, Rose, and Sophia over for a guaranteed good time. Amazon's selling a Golden Girls monopoly game and it's going to make you and your BFF feel like you're in Miami, hanging with the gals, and living your best, sassiest self.
Here's the deal. The monopoly game allows players to buy, sell, and trade memorable locations from the show. The tokens include: cheesecake, Stan's toupee, Rose's teddy bear, Sophia's purse, and Blanche's hand mirror. Are you already feeling massive waves of nostalgia? Do you wish that you were hanging out with Sophia literally right now, listening to her serve up some savage burns?
Me too, so much.
The game has received a whole slew of glowing, positive reviews on Amazon, and we all know that Golden Girls fans are very protective of their favorite show. "Love buying properties like Shady Pines and Blanche's bedroom," one Amazon user wrote. "The TV show may be over but the fun goes on!"
Look at this magical game board.
And the tokens are all nods to the characters and their favorite items including a cheesecake, Rose's teddy bear, Fernando, Sophia's purse, candied herring, Blanche's hand mirror, and Stan's toupee.
We need it immediately.
If you're still a massively devoted fan of Golden Girls but not really feeling the idea of a Monopoly game – there are a few other equally fun options. Like, this Golden Girls-themed game of Clue. You have to put on your detective hat and determine which of the four women ate the cheesecake, what they left behind at the "scene of the crime," and which room they ate said cheesecake in. Our money is on… all of them?
Or, you could spend a snuggly night in playing Golden Girls Mad Libs. Things will probably get a little raunchy and out of control but that's okay. You and your buds can settle it all out over a nice piece of cheesecake afterwards.
Here's to spending every single night with Dorothy, Blanche, Rose, and Sophia. Don't worry – Herb will NOT invited to the festivities.