Golden Girls PEZ Exists Because Your BFFs Need Toys Too
by Valerie Williams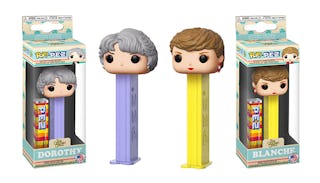 Image via Amazon
You can buy these Golden Girls PEZ dispensers for yourself — or your BFFs
Golden Girls may have aired its last episode when most of us were still in elementary school, but that doesn't mean they've slid into irrelevancy. Oh so far from it. The four sassiest gals in Miami have gathered quite a bit of nostalgic steam in recent years, which means we're practically drowning in amazing merch. From themed hot sauces to prayer candles, you could pretty much decorate your entire home in Golden Girls motif. That said, we are always up for more and the kitsch gods have answered our 90s prayers with these ridiculously cute Golden Girls PEZ dispensers.
Yes, you need them all. No, kids — these are just for Mommy.
The entire collection is available on Amazon and they're brought to us courtesy of the geniuses at Funko Pop!. You can get Golden Girls action figures too but we feel like these little candy-poppin' heads are a whole lot more fun. Let's start with the sassiest southern belle we ever did see — our beloved Blanche Devereaux. The details are all nailed from her signature yellow to her wavy hair to her red lips to her sexy earrings.
But not everyone is a Blanche (honestly, there can only be one), so let's move on to our next lovely lady — the delightfully dry, sarcastic, and ever-wise Dorothy Zbornak. She's strength personified and smart as a whip so obviously, dispensing your yummy PEZ candies from her is never a bad idea. Sidebar: do PEZ come in cheesecake flavor? Asking for a friend. See what I did there?
Ok, so not everyone has the confidence and sex appeal of Blanche or the brains and wit of Dorothy. Some of us are a bit comfier spouting childhood stories from St. Olaf while looking a bit dazed and for that there's only Rose Nylund. Sweet as those PEZ candies, every BFF group needs a Rose. Kind, naive, a little kooky, but always there for her girl group. We'll actually take a dozen.
And that brings us to (sorry, not sorry) the best gal in the bunch — both on the show and in PEZ form. LOOK AT HER. Funko somehow captured Sophia Petrillo's judgmental gaze and matriarchal vibe and we legit can't get enough. We can almost hear her amazing one-liners from here.
Or, you could just stop with all the hemming and hawing and buy the entire collection.
While we're at it, why not also buy the entire collection of Funko Golden Girls action figures? Your kids don't get to have all the toys. Picture it. Sicily. 1922. And you hashing out entire scenes from the best lady show to ever exist using your fun action figures and doing all the voices.
No one would question these extremely solid purchases. Display them all for company or stash them in your purse. We feel like the whole crew of Goldens would approve.
This article was originally published on