You Can Now Buy 'Golden Girls' Prayer Candles
by Thea Glassman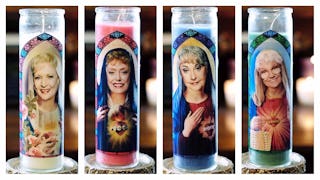 Image via The Eternal Flame/ Etsy
Golden Girls + prayer candles = ultimate decoration
It's time to light a candle and say a prayer to the four iconic women who personify all things sassy, snarky and IDGAF. There's a whole slew of prayer candles featuring the Golden Girls. That's right, Blanche, Rose, Dorothy and Sophia, have their faces plastered on prayer candles.
Which means you should probably run, not walk, to pick up a set (or two, or three…it's been a weird year).
Incidentally, this is also the sort of gift that's perfect for your best friend, whom you love dearly but also have, on occasion, called a human mattress.
For starters, you can snag this set of four candles ($44) featuring the ladies looking positively angelic (well, except maybe Dorothy). Oh, and the candles come with a note that says "thank you for being a friend," so this option is especially perfect for all the pussycats in your life.
Are you trying to live the most Blanche life possible? Sequins, sexual prowess and all? Then these blinged out Golden Girls prayer candles ($67) are probably (definitely) for you. Each one is decked out in red rhinestones, and they're decorated with a tropical theme. Side note: this candle should only be lit for your more unsavory prayers.
If you're looking for something a little more festive, go with the Golden Girls candles with a set of pom poms balls hanging from them ($30). If you're going to go kitsch, you should go kitsch all the way. Sophia would hate it. Blanche would love it. Rose would smile placidly and start blabbering on about St. Olaf, which is why we love her.
Now, if you love all the gals, but are really only truly loyal to one, then you should probably nab one of the individual options. It's okay to play favorites. No threats of Shady Pines for you.
Snag this prayer candle of Sophia ($10), if you've got a butt like granite, and you're not afraid to say it (which, let's be real, should be all of us).
If you like the gentler, sweeter things in life, pick up this Rose candle ($10). Don't worry, everyone knows that you can throw a solid, soul-crushing one-liner out there when you need to.
Are you the most sensible one if your friend group? Like, you always turn your library books in on time and are only (sort of) smug about that? Buy a Dorothy candle ($10.00) and pat yourself on the back for — almost always — keeping it together.
Now, go, get your prayer candles and light them up for another year of pure, unadulterated sassiness. Also, perhaps pray for some peace and quiet so you can binge-watch all seven season of Golden Girls. You've earned it.
This article was originally published on