Activists Were Actresses' Dates On The Red Carpet Last Night
by Jerriann Sullivan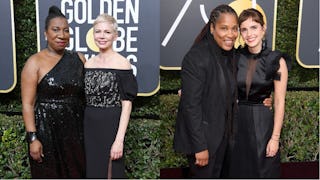 Image via Steve Granitz and Venturelli/ Getty Images
Movie and television stars took activists to the award show
Dressed in black, famous actresses walked the red carpet with activists at the Golden Globes last night to highlight sexual harassment and gender inequality. Their action to shed light on the abuse women deal with is part of the Time's Up anti-harassment campaign, which launched on New Year's Day.
The actresses included Laura Dern, Amy Poehler, Susan Sarandon, Meryl Streep, Emma Stone, Emma Watson, Michelle Williams, and Shailene Woodley. The group of women released a statement to The New York Times about their decision to bring special guests that said, "We believe we are nearing a tipping point in transforming the culture of violence in the countries where we live and work. It's a moment to transform both the written and unwritten rules that devalue the lives and experiences of women." By highlighting activists who have dedicated their livelihoods to helping survivors, the actresses said they hoped to redirect attention abusers receive to solutions for sexual harassment and abuse.
The ladies have already contributed one such solution to the conversation as well by signing an anti-harassment initiative and establishing a legal defense fund that will match victims with attorneys who will provide subsidized legal assistance. The letter was signed by Reese Witherspoon, Shonda Rhimes, Eva Longoria, America Ferrera, Natalie Portman, Rashida Jones, Emma Stone, and Kerry Washington among many others.
"Now, unlike ever before, our access to the media and to important decision makers has the potential of leading to real accountability and consequences," the letter read. "We want all survivors of sexual harassment everywhere to be heard, to be believed, and to know that accountability is possible." While the horrific abuse by Harvey Weinstein brought more awareness to the #MeToo movement, these actresses are hoping to shift the focus to women outside of Hollywood who need equality in their workplaces and might not have the same resources.
Laura Dern, who won for her role in "Big Little Lies," brought Mónica Ramírez, who works to end sexual violence against farmworkers. Comedian Amy Poehler walked the red carpet with Saru Jayaraman, a workplace justice advocate for restaurant employees. "Coming together is important but working to make real change, that's what makes it real," Poehler shared. Jayaraman said, "We are already seeing the impact of this expanding."
Susan Sarandon, who was nominated for "Feud: Bette and Joan," attended the awards show with Rosa Clemente, a community organizer who helps political prisoners, increases voter engagement, and who is also focused on Puerto Rican independence. Meryl Streep, who was nominated for her role in "The Post," brought Ai-jen Poo, the director of the National Domestic Workers Alliance. "The work has been going on for so many years. To be able to include Time's Up, we fully welcome that," Poo told The Times. "When women have this kind of unity, we can't be stopped."
Emma Stone, who was nominated for her role as Billie Jean King in "Battle of the Sexes," brought the tennis champion who also founded the Women's Tennis Association. Emma Watson walked the red carpet with Marai Larasi, who is the executive director of Imkaan, a British organization that's worked for 20 years to end domestic violence, forced marriage, and honor-based violence against black and minority women. "If women have anything to do with it, this conversation is not going to stop," Watson explained.
Shailene Woodley's guest of honor was Calina Lawrence, a Suquamish Tribe member and activist for Native American treaty and water rights. Michelle Williams, who was nominated for her role in "All the Money in the World," brought Tarana Burke to the awards show. Burke is the founder of the #MeToo movement and the senior director for the nonprofit Girls for Gender Equity. While on the red carpet, Williams said, "As a survivor, I'm standing with survivors to say none of us are alone anymore." Burke added: "There's a misconception that #MeToo is only in Hollywood. But it's become a global movement."
To donate to the Time's Up campaign, which has already received $13 million in donations, or to access the many resources for survivors of sexual harassment, abuse, or violence visit the campaign here.