4 Types Of Goldfish Crackers Are Being Recalled After Salmonella Scare
by Thea Glassman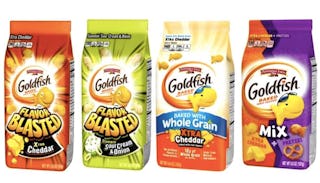 Image via TODAY/Pepperidge Farms
Pepperidge Farm recalled four types of goldfish after salmonella scare
Snack company Pepperidge Farm recalled four types of goldfish after learning that there was potentially salmonella in the seasoning. A rep couldn't confirm if the snacks are actually contaminated but said they're pulling the product just to be safe. This is pretty huge news for parents everywhere who have toddlers with diets made up of 74% Goldfish crackers.
The goldfish boxes in question are: Flavor Blasted Xtra Cheddar, Flavor Blasted Sour Cream & Onion, Goldfish Baked with Whole Grain Xtra Cheddar, and Goldfish Mix Xtra Cheddar + Pretz.
"After being notified by one of our ingredient suppliers that a whey powder in a seasoning that is applied to those crackers has been the subject of a recall due to the potential presence of salmonella, this decision was made out of an abundance of caution," the company wrote in a statement.
They confirmed that there haven't been any reports of illnesses from the crackers so far, and they aren't recalling other Pepperidge Farm products at this time.
The news comes on the heels of a whole wave of salmonella outbreaks across the country. In June, the CDC warned that Honey Smacks cereal had gotten 73 people sick. The company issued a voluntary recall but, unfortunately, not all stores listened. Some retailers still had boxes on their shelves and an additional 27 people were infected.
It's now officially against the law to sell the cereal anywhere. "Retailers cannot legally offer the cereal for sale and consumers should not purchase Kellogg's Honey Smacks cereal," the FDA said in a statement. The CDC also noted that the general public should throw out any boxes they might already have in their kitchen.
Pre-cut melons have also been a culprit. Last month, the fruit was recalled in nine states after at least 60 people got sick. According to the CDC, 31 people were hospitalized and, thankfully, no deaths were reported.
To add panic upon panic, Ritz also recently recalled certain products that contained the whey powder that might possibly be contaminated with salmonella. A complete list of the Ritz snacks that should be avoided can be found here. "Customers who have these products should not eat them, and should discard any products they may have," the company warned. "…There have been no complaints of illness to date in connection with these products."
Salmonella can cause a whole host of awful symptoms including diarrhea, fever, and abdominal cramps. If you wanted to keep up to date on the foods you should be avoiding, follow the CDC on Twitter or check out their official website.