10 Things Every Golden Girls Fan Needs Right Now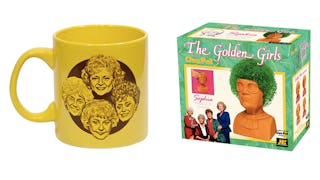 Walmart
You love the late night re-runs, you are saving for The Golden Girls Cruise, and you identify with Dorothy, Rose, Blanche, or Sophia like no one else. So, what are you waiting for? Here are 10 hot items you need in your life right now.
A chia head always makes a great gift, but this one is exceptional– get it for your bestie who loves The Golden Girls and the two of you will pee yourselves laughing. Also available in Rose, Dorothy, and Blanche!
There is a Golden Girls version of one of the most beloved, classic board games of all time and it must be added to every game collection.
Even if you aren't a morning person, a mug with all these amazing faces looking at you will help start your day off right.
Not only will this windshield cover save your car from overheating and fading, it will definitely spread some cheer to those passing by. If this doesn't make someone smile, nothing will.
A T-shirt to wear around town in a no-brainer for any Golden Girls Fan. We love this one since it's dark, will hide stains, and can be worn a few days in a row.
We want to have a little piece of all the amazing women, and there's nothing like an inspirational wine glass to remind us of that.
What else would you drape yourself in while binge watching The Golden Girls? This cozy fleece blanket will be the one everyone fights over for sure.
Even if you aren't a fan of Pez candy, you can't deny you don't want to keep this dispenser in your purse at all times. You might as well get one of each and hand them out to your friends
The whole family needs a pair of these super comfy lounge pants. They would definitely make for the cutest family picture ever.
Sure, we can stream these days but there's nothing like having the actual box set in your hot little hands which contains every episode. So, sit back and get ready for a party.
These Golden Girls collectables are too fun to keep for yourself, make sure you buy enough to go around for birthdays and holidays — you will be the hit of the party.
We may earn fees from purchases made via links on this page and affiliated sites. All opinions are our own.
This article was originally published on