15 Must-Haves For Anyone Who Loves Mermaids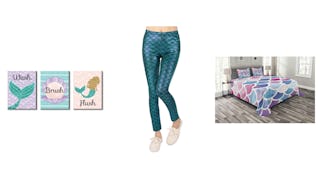 Walmart
Mermaids have been all the rage since we were kids — mostly thanks to Ariel. But even today, kids (and adults!) love to dress up as the half-scaled/half-human creatures and fantasize about living among the fish. So here are 15 super-cute things that any mermaid-lover would enjoy, since they are, in fact, stuck on land.
OMG, how cute is this mermaid swimsuit? It comes in pink or purple, or you can just get both for ultimate cuteness and hope your kid will sit still long enough for a picture.
This "mermazing" tee has lace-up sides and would allow any mermaid-obsessed kid to celebrate their love for ocean creatures, and rock a cool '80s look.
While mermaids are still a hot item in kid-world, Hatchimals pretty much rule the scene right now. This Hatchimal set is full of "mermal magic" — making it two gifts in one.
Flip sequin stuff — from clothes to purses to backpacks to pillows — are super-popular these days. So how about a flip-sequin pillow that looks like a shiny mermaid's tail?
For the mermaid-lover who is stuck on land with real human legs, these fish-scale leggings are a fun and cute choice.
How pretty is this bed set?! Imagine falling asleep among these gorgeous colors and drifting off into dreamland where the real mermaids live.
Skechers are cool. Mermaids are cool. So a combo sneaker style like this one from Twinkle Toes is sure to be a hit with any mermaid-loving kid.
Kids who love mermaids often grow up to be adults who love mermaids. And maybe those adults would enjoy some mermaid-inspired wine labels? (Sorry, wine not included!)
Another hot toy item that's making a comeback is Polly Pockets. This Hidden Hideout Mermaid Cove set is the perfect gift for a kid who loves tiny friends, especially in mermaid form.
How cute is this wall art for your kids' bathroom? Nothing better than a gentle (and pretty) reminder to not be disgusting!
This blanket screams "snuggle under me and escape the world." Anyone who loves the feel of a warm, soft blanket and wants to dream of swimming among the fishes would enjoy this.
Okay, so you can't swim like a mermaid, but you can take a bath like one! How about a bath bomb to help you relax after a long day interacting with humans?
RELATED: How To Make Ahhhh-Mazing Bath Bombs For Gifts… Or Your Own Spa Days!
This hilarious and fitting wine glass channels your inner love for mermaids while you avoid the world. Sorry, Ariel, but not everyone wants to be where the people are.
Barbie is a classic fave — whether we're feeling nostalgic for our own childhoods or introducing our little ones to their own Barbies. And this one will sure make a splash with her colorful hair and light-up tail.
This clever wall art is full of great advice for kids, like inspiring them to come out of their "shell" and avoid "pier" pressure. The puns are the best part.
If you know someone who loves mermaids (or it's you who wishes you had scales, a tail, and had a friend named Flounder), there are so many mermaid-themed goodies to enjoy. So go ahead and snuggle up under a mermaid-blanket, or enjoy a mermaid bath. Just don't forget to "sea" life's beauty too.
We may earn fees from purchases made via links on this page and affiliated sites. All opinions are our own.
This article was originally published on