I'm Obsessed With Unicorns, So BRB Buying Everything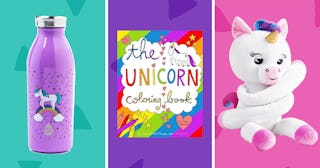 Walmart
If you know someone who is utterly obsessed with unicorns (who isn't?), then we have a perfect way for you to see all the best unicorns right now. Here are Scary Mommy's top picks for your unicorn-loving kid.
Fingerlings are still one of the hottest toys out there. If your kids don't have a unicorn, this is the time to add one to their collection.
This brush is the perfect solution for kiddos who get lots of tangles in their hair and make you chase them around the house to get a comb through it. They may actually welcome a nice hairdo with a unicorn brush that detangles.
We all love a good coloring session. This is the perfect thing to give your child so you can grab a shower. You might even want to color a few pages yourself.
A Fancy Nancy book is always a good idea, and this one is a must-have for your kid's book collection.
Latch hook is a great craft that will hold your kid's attention. You may even want to join in and make one of these sweet unicorn mini-rugs for yourself.
This sweet ride will wear your kids out and is a great way for them to develop fine motor skills. It also looks pretty cute parked next to their bed waiting to give them their next adventure.
A rocking animal is a must have for every child. We love Bella the Rocking Unicorn.
This cute little cosmetic bag is the perfect thing for your kiddo to take to their sleepovers and on road trips to carry their lip gloss, tissues, and jewelry.
This game is perfect for a birthday party or just a fun afternoon when your kids are whining that they're booooorrred.
Be kind to the planet and look super chic with this stainless steel water bottle.
This shirt is perfect for any day your little one wants to feel magical.
Your kids will be thrilled to add any of these goodies to their mystical-creature collection, whether it's a rocking unicorn or something soft and cozy that shows off their favorite animal.
We may earn fees from purchases made via links on this page and affiliated sites. All opinions are our own.
This article was originally published on