This GOP Congressman Is Sad He Can't Call Woman 'Sluts' Anymore
by Thea Glassman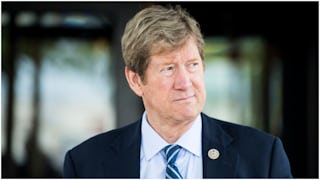 Image via Bill Clark/Getty
GOP Congressman Jason Lewis complained about not being able to call women sluts anymore
Grab the nearest pillow because you're going to want pummel something after reading this. Rep. Jason Lewis, a Republican congressman from Minnesota, once complained about not being able to call women sluts anymore. Playing the world's smallest violin for you right now, Jason.
CNN went through months of audio recordings from Lewis's syndicated radio program "The Jason Lewis Show," which ran from 2009-2014, and unearthed a whole bunch of misogynistic, backwards, and truly disgusting sound bytes. In one, Lewis backed up radio host Rush Limbaugh, who called women's rights activist Sandra Fluke a "slut" after she fought for accessible birth control.
"Well, the thing is, can we call anybody a slut? This is what begs the question. Take this woman out of it, take Rush out of it for a moment," Lewis said. "Does a woman now have the right to behave – and I know there's a double standard between the way men chase women and running and running around – you know, I'm not going to get there, but you know what I'm talking about. But it used to be that women were held to a little bit of a higher standard. We required modesty from women. Now, are we beyond those days where a woman can behave as a slut, but you can't call her a slut?"
Yup, so that's officially the most repulsive, sexist garbage I've heard in a long time (and the bar has already been set super high at this point).
I love how he even acknowledges that his statements are a double standard, and yet barrels on anyway. As if it needs being said again, women can do whatever they want with their bodies without being slapped with a demeaning label. If Lewis were to take a step out of the dark ages, he might understand that women should be treated equal to men, modesty is a bullshit, outdated expectation, and someone's number of sexual partners has no bearing on whether or not they're living a "high standard" of life.
Oh, and he wasn't even close to being done (sorry). He proceeded to dive into a diatribe about Madonna, her clothing choices, and her boyfriends.
"Have we really got to the point where you can't refer to Madonna as a slut without being sued? I mean, Madonna has had a series of lovers, as have many in Hollywood," Lewis said. "Now in the old days, what did we call this? Madonna dresses up in these sorts of prostitute-like outfits on stage, and she goes there and she sings and she shows half of her body. What did we call those people? 30 years ago? 40 years ago? 50 years ago? You can't do that today, it's too politically incorrect?"
Lewis is sticking by his awful comments and not showing any signs of backtracking. "This has all been litigated before, and as Congressman Lewis has said time and time again, it was his job to be provocative while on the radio," the congressman's campaign manager Becky Alery said in a statement, per CNN.
The politician is currently up for reelection and, if you're disgusted by his views and happen to live in Minnesota, check out his opponent, Angie Craig. She's already come out strongly against his statements and tweeted that she'll "fight like hell so women have the opportunities they deserve and all families can thrive."