Defunding Planned Parenthood Would Be Catastrophic For Women. Here's Why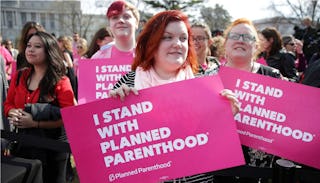 Image via Alex Wong/Getty Images.
Here is what will really happen if Planned Parenthood is defunded
Planned Parenthood is in the middle of yet another fight with GOP legislatures over federal funding. Grab your phone and prepare for a chat with your representative because once again, politicians are trying to eliminate health care options for women.
Earlier this month, the GOP released its proposed American Health Care Act, which revealed its plan to take away $500 million that the organization receives in Medicaid reimbursements. To be clear, that money is not spent on abortion procedures. It's prohibited by law, but still, the GOP insists on taking money away from a health care provider that 2.5 million people use every year. The money helps cover the cost of STI testing and treatment, HIV testing, birth control, pap tests, HPV vaccines, breast exams, and other health care necessities.
"They keep saying 'you can go to a doctor of your choice' … unless it is Planned Parenthood," Planned Parenthood President Cecile Richards told Scary Mommy. "They're telling women, particularly low-income families, that they can't go to Planned Parenthood anymore. It's mainly women, mainly moms that will be affected. They should have the right like everyone else does to choose their health care provider."
Women will suffer if Planned Parenthood is defunded. It will be absolutely catastrophic for low-income women.
Judith Solomon, Vice President for Health Policy at the Center on Budget and Policy Priorities says, "That is why [defunding Planned Parenthood] is especially troubling in terms of Medicaid, and really undoing decades of work to ensure that low-income women have ready access to family planning."
In many cases, Planned Parenthood is the only option for women and families because of the low cost. In other cases, Planned Parenthood is the only place in a woman's town that provides the specific health care services she needs. "One of the exciting things at Planned Parenthood is that we introduce every new FDA-approved form of birth control. We've had had a rush of women trying to get IUDs because for a lot of moms that's a very good option," Richards explained. "So women can have options. A lot of health care providers don't stock implants or IUDs, or they aren't trained on how to use them."
In many circumstances, Planned Parenthood is the only place a patient can see a doctor because they can't afford to go to the hospital or wait months for an opening at a clinic. "When politicians say there are all these other places to go that's simply not the case," Richards said. "You can't always wait a month or two for a community health center. Planned Parenthood is there for those patients."
Abortions account for only 3% of the services provided by the organization, and no federal money is used for those procedures. Instead, millions of patients would lose preventative health care services like birth control, std screenings,UTI treatments, well-woman exams, and much more. "Potentially millions of mothers will lose maternity benefits that are under Obamacare," Richards said.
The organization is also the largest provider of sex education in the U.S. "For a lot of moms and families having an organization that equips you with information and resources to talk to your kids in a medically accurate way is very helpful in preventing STDs and unplanned pregnancies," Richards shared. "We're at a historic all time low for teenage pregnancy in the U.S., and that's a direct result of people having prevention and birth control."
So what can you do? Call or visit your member of Congress. It can be out of your comfort zone to call a politician's office, but it's the most effective way to let your elected officials know you support Planned Parenthood and the health care services they provide. You can find their phone numbers here.
For more info on how to get involved, visit I Stand With Planned Parenthood.
Or you can send a direct message to congress, here.
This article was originally published on