9 In 10 GOP Women Don't Blame Trump For Violence At Capitol
by Leah Groth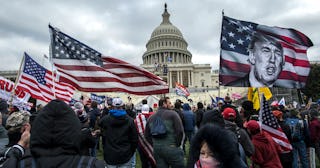 Probal Rashid/LightRocket via Getty Images
Nearly every female Republican in the country believes Trump should not be held responsible for the U.S. Capitol riots earlier this month
Less than two weeks ago, pro-Trump rioters stormed the U.S. Capitol building in what was undoubtably one of the most shocking moments of his presidency, and possibly, the history of the country. Evacuations were forced, ungodly amounts of property destroyed and looted around the governmental building, including lawmaker's offices, and five people, including a Capitol Police officer, lost their lives. And, while the President, recently impeached for the second time, seemed to encourage the event, a shocking number of people — even women — do not hold him accountable according to a new poll conducted by NPR/PBS NewsHour/Marist.
The majority of people — nearly six in ten Americans — blame Trump for the violent actions of his followers. However, there is an obvious discrepancy when broken down by party affiliation. Ninety-two percent of Democrats and 55 percent of independents blame Trump, while 82 percent of Republicans do not.
But here's the shocker: While eight out of ten Republicans believe he isn't to blame for the violence, nine out ten Republican women believe he is innocent. Yes, more conservative women than men believe Trump wasn't behind the violence.
Throughout his four years in the White House, Trump hasn't exactly been an advocate for women, making endless sexist comments (like his infamous promise to "get our husbands back to work" while on the election trail and even being accused of sexual misconduct by over 40 women.
The poll also found that the majority of Republicans believe Trump was essentially robbed of the presidency due to voters fraud. While 92 percent of Democrats and 56 percent of independents trust the results just one in five Republicans (20 percent) do, with a whopping 78 percent percent believing the results were accurate.
Trump has continued to insist that the election was rigged. He has been adamant about his allegations of voter fraud, attempting to get his followers to rally around him. On Jan. 6, as the Electoral College counted votes and got ready to declare a winner of the election, his followers attempted to stop the counting by raiding the Capitol building and inciting violence. And did he do anything to stop them? Nope. Despite the fact that he was the sitting President and could take pretty much any action he wanted, he allowed the violence to continue. Yet, to repeat again, just 10 percent of Republican women hold him responsible, with the vast majority believing he had zero to do with it.
Even after the violent event, Joe Biden being declared the winner by Vice President Mike Pence, and becoming the first President in history to be impeached for a second time on Wednesday, Trump has yet to concede. However, despite his refusal to acknowledge defeat, in five days Biden will be sworn in.