Get Ready For Drama, Because 'Gossip Girl' Is Getting A Reboot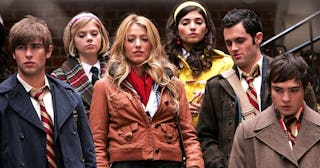 James Devaney/Getty
Greetings, Upper East Siders! A Gossip Girl reboot just got the green light
The latest gossip in the TV news world is here, and it is juicy. WarnerMedia, the company behind the newest streaming service we're going to have to sign up for, HBO Max, just announced that they're rebooting the insanely popular and influential teen drama series Gossip Girl, and we can't wait to be back in the world of New York City's elite not-quite-adults-who-do-shockingly-adult-things.
A Gossip Girl reboot has been rumored for quite a while, but months ago, CW president Mark Pedowitz said at the Television Critics Association that the show would not return to TV screen unless the original writing and producing team of Joshua Safran, Josh Schwartz, and Stephanie Savage got involved. Guess what, they all signed on, so Gossip Girl is officially returning to our lives, hearts, and televisions, though we don't know much detail regarding what the new show will be about.
The original Gossip Girl focused on Blair (played by Leighton Meester) and her BFF Serena (Blake Lively) as they ran the social scene of the Upper East Side. There was drama on drama on drama, and also boys, most notably Chuck (Ed Westwick) and Dan (Penn Badgley), who were both Serena's stepbrothers, and also the girls' ultimate love interests. And not to spoil the series for anyone who somehow hasn't watched it (if that's you, start bingeing immediately after you finish reading this, thanks), one of those people was also Gossip Girl, the show's omniscient narrator (voiced by Kristen Bell), and the person behind the salacious blog that exposed a great many of the characters' secrets throughout the show's six seasons.
Unfortunately, Meester, Lively, Westwick, and Badgley are likely not taking part in the reboot, which makes sense, since they're all pretty busy with other things, including, but not limited to, being married to Ryan Reynolds and making the prettiest babies in the world. But that just means we'll have a whole new set of troublemaking teens to get overly invested in and obsessed with. Plus, the reboot is going to be set eight years after the original series ended. At that time, the Gossip Girl blog was literally where all the Upper East Siders got their news and gossip. Now, we have a lot more venues for spreading gossip aside from blos. We have social media. There's a lot of opportunity for the show to explore new territory about social sharing and how deeply it can affect our lives, socially and otherwise.
There's no official release date yet for the new Gossip Girl, which currently has a 10-episode order, but HBO Max (which will also be the exclusive home of Friends, Fresh Prince of Bel-Air, Pretty Little Liars reruns) premieres next spring. Plenty of time to binge the original and get caught up on the lives of New York's most elite — and dramatic.
This article was originally published on