How To Get Government Assistance If Your Family Has Been Impacted By COVID-19
by Elaine Roth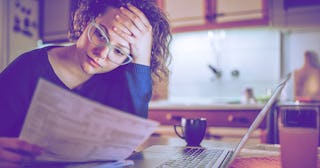 urbazon/Getty
The effort to stop the spread of COVID-19 has shuttered businesses and closed stores across the country, leaving millions of Americans suddenly jobless, and without income.
On March 27, 2020, the United States government passed the largest stimulus bill in history—to the tune of two trillion dollars—to provide assistance to people who have been economically impacted by COVID-19.
What does that actually mean for you and your family? How can you get government assistance? We've broken down how the new relief bill can impact you — and how you can find some relief.
Coronavirus Checks — No Signup Required
Immediate relief via direct deposit will be available automatically for those who qualify, if you received a tax refund by direct deposit within the last two years. Otherwise, your check will be in the mail. (Which means it's a good time to make sure the IRS has your correct address.)
How much will you receive? Well, it depends.
If you filed a tax return in 2018 or 2019, have a social security number, and made less than $75,000, you will receive $1,200 from the federal government. That number comes to $2,400 for couples who made less than $150,000. For each child in the house, you can expect to receive $500. The overall number decreases for individuals or couples who made more than $75,000 (or $150,000 for couples) and disappears if an individual made $99,000 (or $198,000 as a couple).
Didn't file a tax return in either 2018 or 2019? You might still receive a relief payment. Disabled vets and people who receive social security benefits will be eligible for a relief payment—but some of the details haven't been worked out yet.
Unemployment Insurance — State Specific Filing
If you're one of the more than three million Americans who filed for unemployment last week, there's some relief coming for you in the stimulus package. But you'll have to apply.
The relief bill offers benefits in two important ways. First, the bill creates a new program, Pandemic Unemployment Assistance, which covers people who cannot work due to the pandemic — either because they've been quarantined or furloughed, or because they are independent contractors, gig workers, sick, or caring for someone suffering from the coronavirus. This bill allows some people who otherwise would not be eligible for state unemployment benefits (because, for example, they are self-employed) to receive federal unemployment benefits ($600 per week over the next four months) and half the average unemployment benefit in your state.
How to get the money? You have to file for state unemployment — and the process, and qualifications, are state-specific. States can set their own rules on eligibility and amount, which is usually determined by calculating your income over the past year. Also, some states require a one week waiting period before you can begin collecting benefits. This bill makes it easier for states to waive that waiting period.
Paid Leave Law — Tell Your Employer
For the first time in American history, paid sick leave is federally mandated.
It means qualified workers can receive two weeks of paid sick leave if they are ill, quarantined, seeking diagnosis or preventative care for coronavirus, or if they are caring for sick family members. Those who are caring for children at home—either because schools are closed or because their childcare provider is unavailable because of coronavirus—are eligible for 12 weeks of paid leave.
How much can you receive? You can earn the full amount you're usually paid, up to $511 per day, if you're sick or seeking care for yourself. If you're caring for a sick family member or a child at home, you can earn two-thirds of your usual pay, up to $200 per day.
Who is a qualified worker? Most workers at small and midsized companies, workers at nonprofits, and government employees can receive paid sick leave, as long as they've been employed for 30 days. Part time workers and those who are self-employed, including gig workers like Uber drivers or Instacart shoppers—are eligible. Not eligible: people who work in companies that employ more than 500 people.
The Labor Department will issue guidelines by April 2 to help employers determine how much paid leave employees should get. Once those guidelines are set, all you need to do is let your employer know you are taking leave.
Need more information? The Department of Labor posted a fact sheet for workers.
The law expires on December 31.
Student Loans — Call Your Loan Service Provider
If you have any outstanding federal student loans, you can obtain a payment waiver of at least 60 days, during which time you won't be charged interest and won't be penalized on your credit score. Unlike the stimulus checks, this one's not automatic. You have to call your loan service provider, ensure your loan is eligible, and request the payment waiver.
Private loans are not subject to the relief bill, and the waiver doesn't apply. However, some private lenders are agreeing to suspend payments. Again, you'll have to call your lender and see what exactly they're offering.
Another option for those whose income has suffered as a result of the pandemic is to enter an income-driven repayment option, which could leave you with no monthly payments while your income stays low.
Tax Returns Filing — An Automatic Extension
That April 15 filing date is now July 15. The relief bill is giving taxpayers an additional three months to file their tax returns, with no additional penalty or interest.
Relief for Mortgages and Rent — Call Your Mortgage Provider
Mortgage payments may be suspended for up to 12 months due to coronavirus-induced hardships for mortgages owned by either Fannie Mae or Freddie Mac. Private mortgages may also participate in a similar program to assist borrowers, and it's worth calling to find out if yours does.
Worried about foreclosure or eviction? The good news: Under the relief bill, no foreclosures or evictions are permitted for borrowers of Fannie Mae or Freddie Mac mortgages, or those who have FHA loans. Renters whose landlords have mortgages backed by Fannie, Freddie, or the FHA can also not be evicted or charged fees or penalties for nonpayment of rent. This moratorium on evictions is in place through the end of July.
Utilities — Call Your Service Provider
Water, electricity, gas … WiFi. Some utility providers are choosing not to cut off service for non-payment.
The major internet companies have agreed not to cut off service for nonpayment. It is unclear as of now whether the relief provided by these companies will automatically apply to everyone, or whether individuals experiencing hardship should call.
Some state-specific utility companies have also agreed not to shut off service for nonpayment or for late payments. It's worth a phone call to your service provider to see whether they are offering any relief.
Credit Card Debt — Call Your Credit Card Issuer
Many credit card issuers are also offering relief to people whose income has dropped off or disappeared due to the pandemic. Check with your issuer whether they will change your payment due date or allow you to skip a payment. Even better — sometimes the changes are allowed without charging additional interest.
SNAP and WIC Benefits
The relief bill provides for an additional $15 billion in SNAP funding in anticipation of more people qualifying for the program and waives the work requirements for eligibility. The minimum SNAP benefit, as of this bill, will remain at $15. Advocates are lobbying to raise the minimum to $30, to increase the maximum benefit by 15 percent, and to do away with limitations that restrict what products can be bought with SNAP benefits.
Similarly, the bill provides additional funding for the Women, Infants and Children (WIC) nutrition program and allows people to be certified for the program without physically appearing at a WIC clinic.
Need More Relief?
The government signaled that it's willing to provide even more relief in the form of another stimulus package as the pandemic rages through our cities and towns. The bill could include more funding for food security, protections for workers, and more support for state and local governments. What exactly will be included, how soon this relief might come, and how it will assist struggling families, remains to be seen, though lawmakers have hinted that they'd like a legislative package to be ready by late April.
The coronavirus has drastically changed the shape of all our lives. Seemingly overnight, people lost jobs and families lost all or some of their income, leaving them unsure of how they will pay for basic necessities. But there is help. Navigating how and where to find relief may feel overwhelming. And it is. But the important thing to remember is that relief is available. And hopefully, more will be coming.
This article was originally published on