The Government 'Lost' Nearly 1500 Children It Separated From Immigrant Parents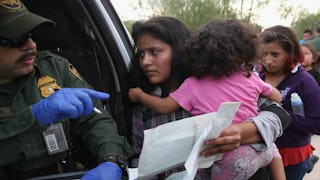 Image via John Moore/Getty Images
Nearly 1,500 migrant children placed in homes by government agencies are now missing
The Department of Health and Human Services is reporting they cannot account for nearly 1,500 migrant children who have been separated from their parents as a result of current immigration laws. Earlier this week, federal officials testified before a Senate subcommittee that the missing children were initially placed in the homes of adult "sponsors" in communities across the country — and now 1,475 of those children cannot be found.
From October to December of 2017, the Department of Health and Human Services (HHS) checked with the agency responsible for placing the children with sponsors. Here's what they found: Out of the 7,635 children, 6,075 of the children were still living with their sponsors, 28 had run away, five had been deported and 52 were living with someone else.
The 1,475 remaining children could not be found after making follow-up calls to check on their safety. Which means their whereabouts are unaccounted for and the children are missing. It's a heartbreaking reality for many migrant families who have been separated — perhaps permanently — from their children.
Once migrant children turn 18, they can't be held in facilities run by HHS, and the agency is required to let the Department of Homeland Security know whether the children should be detained or released into the community. But HHS only forwards those plans for one of every three children, the subcommittee found.
Many immigrant families are separated at the border, struggling to find each other among the federal agencies in charge. According to the Houston Chronicle, there aren't many procedures in place to assist them in reuniting. In many cases, they never do. "We have seen children as young as 18 months deported without their parents and more commonly, parents deported without their children," said Michelle Brané, executive director of the migrant rights program at the Women's Refugee Commission, a national advocacy group. "Parents arrive in Central America with no idea of how to get their children back."
Go ahead and let that sink in: children as young as 18 months old. Deported without their parents. Or vice versa. How can our government get away with treating human beings this way? In the wake of this news, many people are asking the same question — where are the children?
Many are also demanding action from the government, specifically the Department of Homeland Security and Customs and Border Protection.
While it's true many of the children went missing before the Trump presidency, it's safe to say his administration's stance on immigration — and using the separation of families as a threat to deter immigrants from entering the U.S. — will only lead to further incompetence on the government's part to help locate these children.
In Arizona, 200 cases of children being separated from their parent have been reported. Since January. Of this year.
An infant less than a year old, in court alone? What the fuck is happening in this country?
Earlier this month, Homeland Security Secretary Kirstjen Nielsen testified before a Senate committee: "My decision has been that anyone who breaks the law will be prosecuted," she said. "If you are parent, or you're a single person or if you happen to have a family, if you cross between the ports of entry we will refer you for prosecution. You have broken U.S. law."
The ACLU has created a petition addressed to the Director of Homeland Security, stating: "The Trump administration is sending the clear message that immigrants aren't welcome here – and they don't mind sacrificing constitutional rights and basic human decency just to get that across. They want to scare people away from coming to this country to seek a better life and aren't afraid to admit it."
MomsRising.org is urging everyone to contact members of Congress and Homeland Security because it's undeniably inhumane to separate infants and children from their parents and insist they take action immediately.
This article was originally published on