Many Federal Workers Can't Afford Diapers During Shutdown
by Thea Glassman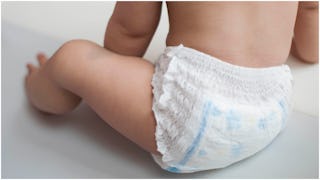 Image via Karl Tapales/Getty
Federal workers can't afford to buy diapers for their kids because of the government shutdown
Twenty-nine days into the government shutdown and the heartbreaking consequences continue. Many federal workers have been forced to turn to nonprofits for diaper donations. And those nonprofits are currently struggling to keep up with the demand because they've lost federal funding.
Here's what you can do to help.
HuffPost spoke to Jojo, a corrections officer at a Texas prison, who is one of the 420,000 federal employees working without pay. She's the only person in her family who's employed and she's struggling to afford diapers for her two sons. Jojo made a two-hour drive to Texas Diaper Bank to get some much-needed help.
The nonprofit has been ramping up their services and offering federal workers six months' worth of diapers and wipes. Before the shutdown, the diaper bank helped twenty families per day. Now, more and more calls are coming in from parents.
It's incredible that this diaper bank is helping out with critical baby supplies, but this sudden uptick is causing a strain on their finances. They'll need donations to keep going.
"Nonprofits don't have more money because there's a shutdown," Joanne Goldblum, CEO and founder of the National Diaper Bank Network, tells HuffPost. "It impacts and pushes on the resources of organizations that are already straining to meet the needs of people who rely on them on a day-to-day basis."
The National Diaper Bank Network is another nonprofit worth donating to during this critical time. They work with 4,000 partner agencies throughout the country, supplying diapers for parents in need. You can head to their website and donate to your local bank here.
There are a few other nonprofits giving out free diapers that could use a financial boost. The Cloth Option, a Massachusetts nonprofit that offers reusable diapers, has been experiencing an increase in requests after announcing that they offer their service to federal workers.
"Our number of applicants has skyrocketed," Sadie Cora, chair of The Cloth Option's board of directors tells Parents. "We are working around the clock to get diaper packages in the mail. We are seeing many applications from federal employees and Coast Guard families, as well as families unsure if they will continue to receive their public assistance benefits that they depend on."
There's also It Takes a Village, Baby, a Virginia nonprofit supplying federal workers with diapers during the shutdown. Donors can head directly to the nonprofit's Amazon wishlist, and make immediate diaper donations.
Here's hoping that this devastating, hurtful, completely unnecessary shutdown ends immediately. In the meantime, many people can do their part to help out by donating to any of the outlets mentioned above.