Bootcut Jeans Are Making The Comeback Literally No One Asked For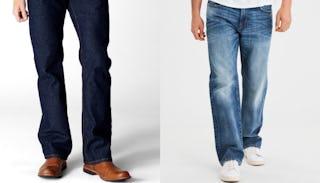 Image via Dillard's
GQ says bootcut jeans are about to be a thing again and Twitter has thoughts
GQ Magazine has just made a fashion prediction it seems the world isn't quite ready for — bootcut jeans are apparently making a comeback. And when we say "isn't quite ready," we mean "get the hell away from us with those rags, stat."
According to GQ, Balenciaga designer Demna Gvasalia included this blast from the past in their spring lookbook, leaving the rest of us to wonder what Gvasalia is smoking? If you need anymore proof that no one (and we mean no one) wants these jeans to come back. Just look at the poor dude's face who's being forced to model them — he looks like an actual deer-in-headlights. Like someone shoved him in these pants against his will and he's pissed.
Sure, fashion comes in waves and there's always inevitable comebacks (hello bellbottoms and chokers), but there are just some things we should leave well enough alone. These uncircumcised penises of the calves are less than flattering, and it seems the good folks of Twitter aren't here for them.
Of course, the queen of the internet just had to get in on the fun:
Teigen also made sure to zoom in on the braided belt, because it needed it's own individual tweet. If you're thinking of sporting bootcut jeans, you must also be willing to accessorize with a belt from that same era:
Then someone put her husband, John Legend's face on "deer in headlights man" which is almost as his hysterical as his swift reply:
But, we digress. The rest of the world was feeling about as excited as Teigen for this comeback that not a single soul asked for:
https://twitter.com/jetpack/status/1069838507445645312
Even NBC correspondent Katy Tur needed to voice her opinion, which is simply, "No." That's really all that needs to be said here.
Admittedly if your shoe game is on-point (or you have self respect), this particular style may not be for you. "By design, the boot cut is meant to cover up your footwear, which isn't exactly something in high demand in 2018," GQ admitted. But they also believe Gvasalia is so forward-thinking, if anyone can predict something as concerning as the comeback of the bootcut jean, it would be him. "If he can pull the same off with the humble boot-cut jean, it might be his biggest trick yet," the magazine wrote.
I'm writing this in my sweatpants and my husband's old painting T-shirt, so who I am to say? Except, just please no.
This article was originally published on