I've Just Discovered 'Grace And Frankie' On Netflix, And Their Messy Families Are Refreshing
by Nikkya Hargrove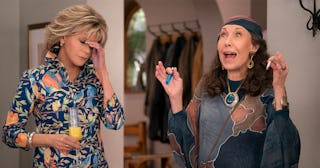 Netflix
Families are messy. From the family group texts, to the arguments over Thanksgiving, to the shade given during a family vacation — nothing about these relationships is particularly easy. Each one takes work and an abundance of mental energy. "Grace and Frankie" gives us a kind of familial reality we've known exists but were too afraid to talk about — too afraid to go there, to appreciate the uniqueness of it all. "Grace and Frankie" gives us permission to embrace what we've been given, and embrace our families even despite all of the messiness.
Families are perfectly imperfect, and when Grace (Jane Fonda)'s husband, Robert, and Frankie (Lily Tomlin)'s husband Sol come out as gay and confess to having had a love affair, ultimately cheating on their wives of 20 years with one another for years, we get how imperfect their marriage has been. Within the first two episodes, these two families are going through it with unanswered questions as they navigate a divorce: who will live with whom, how soon they will divorce, what will happen to their finances, who will tell the kids, etc.
Robert (Martin Sheen) and Sol (Sam Waterston) play the role of two men who come out later in life as gay, but who will forever be committed to the women who gave them children, some of whom are adopted and one who is Black. I am grateful for television shows like "Grace and Frankie" for the boundaries they push. Who knew that women in their 70s could still date and have sex, and appreciate using vibrators? Who knew that a recovering drug addict (Frankie's son Coyote) could be a part of the family again after bringing such shame to it? Who knew that two wives could forgive their gay ex-husbands and continue to co-parent their adult children? Grace and Frankie give me hope that anything is possible, even in the most unexpected of situations.
As a culture, the terms "biology" and "family" tend to go hand and hand. I, for one, know that this is not true; biology does not determine who or what makes a family a family. Television shows like "Grace and Frankie" (and let's not forget "This Is Us") give us a peek into the lives of families who may look a little closer to the norm of our society, shaking up the notion that a mom, a dad, and a kid they conceived and birthed into the world is the only kind of family make up around. It's not. "Grace and Frankie" shows that family comes in all different shapes, sizes, lifestyles, colors — and yes, we all have a level of dysfunctionality in our family systems. Shows like this matter, and we should keep watching.
The show spans six seasons, and while I am only on season three, what I know about this show is that the writing and the characters are diverse, and the storylines are ones we can identify with — we can most likely name someone in our own families who possess some of the same qualities or issues. Grace, for example, is an alcoholic. She knows she drinks too much (just ask the cop she meets by chance after hitting the patrol car with her motorized scooter after a shopping trip, her silver flask popping out of her purse). Frankie is a quirky artist, a free-loving woman and friend who finds comfort in helping others in their own lives — from teaching art classes to ex-convicts, to delivering her own grandchild.
The show also shines light on the fact that when issues arise in families, when the most unpredictable and unexpected circumstances arise, humor can be a good medicine, and a temporary remedy. Here are some of the most memorable lines that will give you the most welcomed belly laughs:
"Everybody needs to toughen up and get me resurrected before I really lose my shit!" – Frankie
"Hope is overrated."- Grace
"I'm just like you but with a better personality." – Frankie
Grace and Frankie know how to have uncomfortable conversations even when their children are around. They don't sugar-coat life experiences or run away from difficult conversations. Grace uses booze, and Frankie pours herself into her artwork, as their respective ways of dealing with their emotions — and I get it. As we watch what appears to be some sort of trainwreck unfold on our televisions, somewhere along the journey, we can see ourselves in each character.
We don't need to look like Grace or Frankie to understand that in families, uncomfortable conversations need to be had and no matter the situation, there are brighter days. Frankie reminds us that life won't always be peaches and cream when she says to Grace, "I bet the first focus group for anal beads was a disaster too." What she shares with us all is that life is fucking hard, but when we have friends and family, we don't have to go it alone; no matter how different we may be, they've got our back. I am going to keep watching "Grace and Frankie" because I find comfort in knowing how messy their family is — much like my own can be sometimes, and yours too — and how far they've come to be okay with it all.