Grad Student Raises $30K For Charity By Dropping Pizzas Out His Window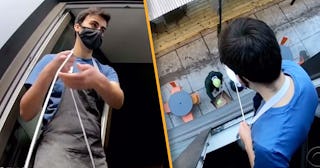 Good Pizza PHL/Instagram
Berman makes all the pizzas himself in his apartment
A grad student in Philadelphia has turned his love of making homemade pizzas into a money-making machine for charities — and is making a lot of hungry people in the area much happier during the pandemic.
Twenty-seven-year-old University of Pennsylvania MBA student Ben Berman has put his culinary skills to really good use during the pandemic by making and literally lowering free pizzas from his second-floor apartment. His only request? Give what you can to his company Good Pizza PHL and he'll donate 100% of the proceeds to charity. So far, he's raised over $30,000 (yes, $30,000) and he's not planning on stopping anytime soon.
Berman doesn't own a pizzeria, so he's making the pies out of his one-bedroom apartment. After moving to Philly in 2019, Berman took up pizza-making as a hobby and served them to friends for dinner. When the pandemic began, he had to cancel one such get-together and found himself with leftover dough, so he told them to swing by and he'd "drop" their pizzas from his window. The rest, they say, is the best kind of history.
"I started it just to stay connected to friends during the pandemic," Berman tells Scary Mommy. "I thought the pizza could make people smile and it gave me an opportunity to say hello to people, at least from my second story window. It's grown so much since then and I'm really proud of what it's become."
What it's become is a big money-maker for charities like Philabundance and Project Home and ones that combat homelessness and hunger to the tune of $30,000 (that's 500 pizzas) and counting. "Every single penny that gets sent in, I give away to nonprofits in the area that I think are making a difference in the community. And that's been a really fulfilling experience for me."
As word spread, Berman began using a lottery system where people could sign up for his "pizza drops" via an email list or on his Instagram page because the demand was too much to keep up with. He can only make 20 pizzas a night for his drops and the past two months he's had over 900 people sign up.
Still, each free pizza comes with a handwritten note, and all donations come via Venmo (@GoodPizzaPHL). "Every day I wake up excited about being able to do that a little bit more," he says. "It's given me some purpose during these hard months. And I'm really, really excited about both the amount of money that we've raised and the small bit of optimism that I've been able to give to people."
Even if you aren't local you can still support Berman's cause by donating on his Venmo or sending him a note of support on social media. It's people like Berman who will change the world.
This article was originally published on