This Grandma Who Flashed A Whole Baseball Stadium Is Living Her Best Life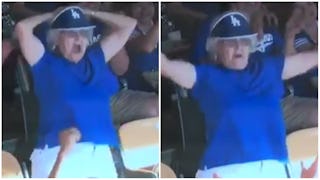 Images via Twitter
Go Granny!
Everyone at a baseball game is secretly hoping to get their ten seconds of fame on the Jumbotron. An older woman at a recent Dodger's game found herself the star of the big screen and decided it was her one chance to go for broke. She shimmies, she shakes, and then decides, "Fuck it," and flashes the entire 45,225 person-filled arena.
You go, Granny.
You can't really hear it, but once she shows off her goodies the crowd goes wild. How could you not? This woman is exactly who we all want to be someday. She's living her best life and DGAF what anyone else thinks about it.
The Dodgers didn't mind sharing the spotlight, in fact, they joked that her impromptu stunt helped the team rally towards a win. "It was the rally granny," Dodgers player Cody Bellinger, told the AP about their victory. "Some of my teammates were talking about it a little bit. You don't see that much at a baseball stadium."
This woman is #Goals right here. The older you get, the more you look back on your life. Sometimes you remember wild things you did fondly, and sometimes you wish you had taken more risks. We don't know what this woman was thinking when she showed her bra to thousands of baseball fans. Maybe she was reliving her youth. Maybe she was crossing something off her bucket list. Either way, she's a role model and we're here for it. File this under "Plans for the future."
Forget meeting the players, people were all about trying to get a selfie with the real star of the game.
Perhaps treating everyone to a glimpse of second base was a good luck charm, because the Dodgers went on to beat the Kansas City Royals five to four. And everyone there, from the fans to the players, went home with the reminder that age means nothing when it comes to being awesome.