These Grandmas Celebrating 1st Female Presidential Nomination Will Give You Life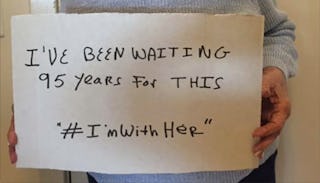 Image via Twitter
People are sharing Hillary Clinton's historic nomination with their grandmas
On Tuesday night, Hillary Clinton became the first woman nominated for president by a major political party. The nomination was a historic victory for women all over the country, and no one understands that better than women who were born during a time when they weren't even allowed to vote. That's why hundreds of people on social media posted that they shared the nomination with some special people who truly understand the significance: their grandmothers.
On Twitter, dozens of people started sharing photos of their grandmothers — both living and deceased — along with sweet messages about what this moment in our history means to them. The 19th amendment, which gave women the vote, was ratified in August of 1920. That might sound like a long time ago, but keep in mind it's only been about 96 years.
In those 96 years, we've had female mayors and governors, female supreme court justices, female senators and representatives, but never have we had the honor of voting for a woman to represent us in the White House. It's an honor so many grandmothers and grandchildren are excited to share.
Some of them shared it on Facetime.
Others shared it in real time, either by watching or attending the Democratic National Convention.
Some were celebrating for grandmothers and mothers who didn't get a chance to see history made, but would have loved the hell out of it.
And others are already making their big plans for election day.
One thing they all have in common is that they understand the significance of this moment, this nomination. It's not just about Hillary Clinton or this election. It's about the thousands of women who fought for our right to vote, who weathered decades without female representation, who understand that the fact that a woman made it this far is huge and an achievement we can never, ever take for granted.
Many people in this country have strong feelings about Hillary Clinton and her politics. But, these photos and messages are a powerful reminder to take at least a few moments to put personal politics aside and acknowledge what this nomination means for women and girls all over the country. So many of us, young and old, have never seen a woman in this position. I'm proud to see it, I'm proud for my grandmothers, mother, and daughter to see it. And, I'm proud for the many women we'll see enter the race in years to come, because now they know they really can become president.
This article was originally published on