Grandma's Priceless Reaction To Virtual Reality Roller Coaster Goes Viral
by Maria Guido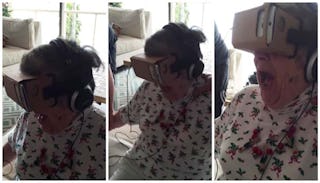 One grandmother got the coolest gift on Christmas day when her family introduced her to virtual reality. YouTube user Mark Nutt posted a video of his 88-year-old grandmother, Marie, experiencing a roller coaster simulation via a Google Cardboard headset. You really can't help but smile while watching this.
"Oh my goodness! Don't go, Denise!" Grandma is clutching Denise's hand for dear life. I've never even heard of Google Cardboard, but her reaction is convincing me it's probably worth a try.
Google Cardboard is simply a viewer that you slip your phone into for a virtual reality experience using apps. The viewer itself is pretty affordable, with most styles hovering around the $20 range. Once you get the viewer, you just need to download some apps, insert your phone, and if you're anything like this grandma — sit back and scream your ass off.
The video's been watched over a million times since Christmas, because it's hilarious.
Now to find this rollercoaster app…