Grandpa Builds 'Disney' In Backyard To Get Grandkids Over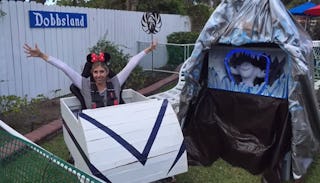 Image via YouTube.
This grandpa's "Disney" backyard has a legitimate rollercoaster
A California grandpa turned his extra outdoor space into a "Disney" backyard that any kid – and most adults – would stand in line for hours to visit. And grandpa says he did it so his grand-kids would want to come over.
Cue the world's biggest "awwwww."
Steve Dobbs, 68, of Fullerton, California, is a retired Boeing aerospace engineer and life-long Disney fan. "My interest perhaps started when I was 8 years old. I lived about 2 miles from Disneyland and watched it being built on our bicycles. But my friends and I could not figure out what this place was going to be until it finally opened," he told Good Morning America. "The older brother of my friend worked at the gate and let us sneak in during the summer when it was it too busy, so for those first few years we played in Disneyland like it was my backyard."
Talk about a dream childhood. Now his grand-kids are making their own magical experiences at grandpa's appropriately named Dobbsland, the Disneyland-inspired backyard park that includes a 100-foot-long working roller coaster, a "Sleeping Princess" castle, and a "Winifred-the-Poof" ride. "My younger grand-kids are nuts about Disneyland," Dobbs tells The Orange County Register. "I wanted to give them a reason to come over to my house to spend time with me, and Disneyland is tough to compete with."
He said the ideas started coming about eight years ago when he couldn't entertain the grand-kids for more than about 30 minutes. "He had my kids over and thought, 'How can I keep them entertained and make it fun and get their imagination going?' Dobb's daughter, Cori Linder, told ABC News. So he used cardboard to make pint-sized pirate ships and ping pong shooters to create cannons. The result was a homemade "Pirates of the Caribbean"-themed ride. From there, the retired engineer's imagination ran wild. "I don't think he ever thought he'd build a theme park, he just got carried away and more grand-kids came and it's just magical."
Still teaching a few classes at California State Polytechnic University led Dobbs to enlisting the help of his students and together, they made the "Madderhorn Roller Coaster." Despite being constructed of PVC piping the roller coaster can go up to 12-miles-per-hour. "He had a guy certify it as a legit roller coaster," his daughter explained. "He's always wanted to build a ride at Disneyland. I love that and he was like, 'Why not build it in my backyard for my grand-kids?'"
And of course his grandchildren love it. How could they not? "They just see him as the most creative person in the world," his daughter shared. "He didn't do this for himself," she added. "You see the joy on his face watching people enjoy it, and that to me is timeless and absolutely precious."
And just like Disney, Dobbsland knows its clientele will expect new rides so grandpa is working on a few new projects including teacups that spin, an airplane learning station, a car land and a "Finding Nemo"-esque submarine. His daughter, who is just as excited as her kids, shared some of the details, "It's dark and he made things glow inside."
There's really only one question left – when can we visit Dobbsland?
See the family taking their first rides on the roller coaster in the video below.