Grandpa's Reaction To Finding Out He's Going To Be A Great-Grandpa Goes Viral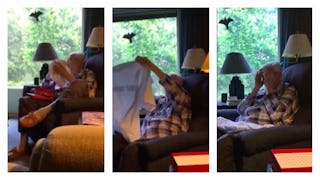 Image via Facebook
His reaction to the happy news is making everyone cry
A woman's pregnancy announcement video is going viral for the sweetest reason. In it, she tells her grandfather that he's going to be a great-grandfather, and his adorable reaction to the news is moving the internet to tears.
Bianca Rollo is her beloved Papa's first grandchild, and as such, she's always held a special place in his heart. She tells the Facebook page Love What Matters that their relationship has a different tone than the one he has with her brother and sister. "Growing up, we would always do things together. Go on boat rides, go fishing, garage sale shopping, motorcycle rides, ice cream outings. We had a lot in common and always had a lot of fun together," she shares.
So when it came time to spread the happy news of her pregnancy, Rollo was beyond excited to share it with Papa and video his reaction.
Rollo and her husband surprised Papa with a t-shirt (he loves t-shirts) with the big announcement printed on the front. It was Father's Day, so he opened it thinking it was just an ordinary gift, but once he figured out what was going on, he broke down in happy tears.
And so did the rest of us.
The latest addition to his t-shirt collection reads, "GREAT GRANDPA to be…December 2017." After letting the announcement sink in for a moment, Rollo and her grandfather embrace, both in tears.
The moment is so touching, and Rollo couldn't wait for it to happen. "I was very excited to share the news that my husband and I were expecting with him because I knew how happy he would be that he would get to "re-live" our relationship with his future grandchild," she says.
There's also a bittersweet reason the arrival of a new baby will mean a lot to her grandfather. "My grandmother (Baba) passed away in 2008 and over the last few years something has been missing in our family. Even though I know nothing will replace her, it makes me so happy to be able to bring new life into our family," Rollo writes.
Rollo tells Scary Mommy that she and her husband will be revealing the sex of their baby in a few weeks, and we can bet Papa will be one of the first to find out. From the expression on his face, both the t-shirt and impending great-grandchild are already bringing all the love and joy Rollo hoped for.
This article was originally published on