Grandpa Hilariously Hijacks Grandma's Lovely Note To Grandson
by Maria Guido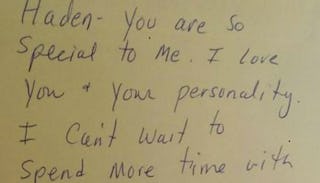 One grandma's gushing note made it to Imgur this week – but not because of its sweetness. Grandma wrote a lovely letter to her grandson Haden, making extra sure he knew how special he was.
But grandpa came in for the kill at the end.
"Haden," grandma lovingly begins. "You are so special to me. I love you + your personality. I can't wait to spend more time with you. I am so proud of you. I talk about you all the time. I love you with all my heart!"
Aw, how sweet. She pretty much covered it, right? Grandpa thinks so. His addition?
"Same here."
This is basically every male elder in my Italian family.
"Grampa" loves you too, Haden. He's just a man of few words.
This article was originally published on