Grandparents Are Now Using Bribery To Buy A Say In Their Grandkids' Names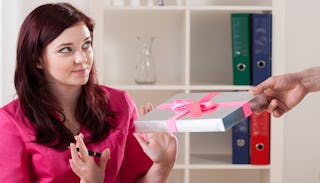 Naming a human being is a monumental task, but some grandparents are stepping in to raise the stakes even higher. A disturbing new trend supposedly has some grandparents-to-be offering money, property, and other hefty rewards in exchange for the right to decide their future grandchild's name.
According to the New York Times, the bribes are a result of grandparents' desperation to keep family names from being abandoned. Gone are the days of John, Jr. and John II. Instead, millennials want baby names that are unique to them. In fact, some are even paying naming experts to help them come up with monikers that are entirely new. As a result, grandparents are playing whatever cards they have to keep treasured family names alive.
In the Times piece, writer Alyson Kreuger tells the story of Frank and Jennifer Hudock, who were offered $10,000 by Frank's parents if they agreed to also name their son Frank. Another new mom, who asked to remain anonymous, said her mother-in-law asked her how much money it'd take to get her to choose a baby name from their side of the family. Maryanna Korwitts, a Chicago-based naming consultant, told Kreuger she's even had client's who've been offered dream weddings or ownership of the family business if they let the grandparents choose a name.
Money is usually a big concern for new parents, as is future financial and professional security. Receiving a down payment for your dream home in exchange for having to name your baby Reginald Arthur III can start to sound like a pretty good deal to some. No matter how sweet the deal is, though, it's still a predatory practice that shows little regard for the parents or the baby.
Parental rights aren't for sale to the highest bidder. It's awful to think about a young, struggling couple feeling like they have to fork over something as special as choosing their baby's name in exchange for some much-needed help or a once-in-a-lifetime opportunity. Parents should have the freedom to decide who gets a say in such a deeply personal decision without the added distraction of dollar bills flashing in their faces.
Most people put a lot of thought and effort into naming their babies. They likely have as much reason for not choosing a family name as a grandparent might have for choosing one, and that shouldn't be so easily dismissed. Grandparents have already had their turn to name babies. It's time for them to settle into their new roles as mentors and treasured friends and leave the big decisions to the parents.
This article was originally published on