This Foul-Mouthed Granny Baking A Gluten-Free Cake Is Your New Hero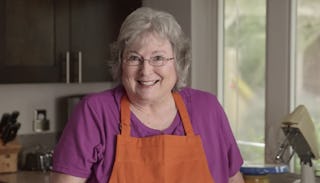 Image via YouTube
She has some thoughts on her grandson's very specific dietary requests
"Hello, the InnerTube. Today, I'm going to attempt a fucking miracle. A damn cake with no eggs, no flour, and no butter."
Moms, meet your new life coach.
Granny has no time for anyone's shit, as she proves in this amazing video. Her grandson's gotten a little "trendy" with his diet and now insists on gluten-free everything and no animal products. From her YouTube (sorry, InnerTube) channel Granny PottyMouth comes a very NFSW tutorial on baking a gluten-free, vegan birthday cake.
As Granny says, "Are you fucking kidding me?"
"I was halfway to mixing this when he called me to tell me this!" Granny fumes, as she tosses the eggs and butter into the trash and embarks on her new mission. "First it was the juice cleanse, then it was the monkey diet, Paleo something-or-other, but lately he says glutton-free and no animal products. Whatever!"
And yes, she pronounces it "glutton". We can't. This is too good.
Granny stops complaining about her grandson's dietary nonsense longer enough to wonder aloud if maybe the glutton-free life would get rid of her "big, fat ass." She acknowledges that people have been trying new diets for decades, "but Satan suck a dick, that is just so tough on a granny's baking skills."
Ohmygod. Oh. My. God.
Out of love, Granny searched "the interwebs" for a recipe that would fit her grandson's stringent criteria. Time to hear all about the yummy ingredients!
Coconut or soy milk, dark, unsweetened chocolate and xantham gum are just some of the unappetizing items found in this miracle cake. As Granny proudly proclaims, "no glutton in this!"
She reveals the secret to making it all gel — organic pumpkin. "Can you fucking believe pumpkin and chocolate instead of eggs and butter? Really?!"
Time to get stirring! She whips it all together saying, "this is gonna be the tits" before comparing the resulting batter to "runny dog shit." Mmmmmm.
In the oven it goes as Granny ponders the next step. "I better think about how to put some frosting on this gross piece of shit if it ever bakes up!" Much to her surprise, it comes out looking like an actual cake. "Well I'll be a son of a bitch! This doesn't smell like dog shit!" She tastes it and is immediately won over by her handiwork. "I'll be damned! That's not too fucking bad!"
The cake's passable but it's the frosting that really impresses her. Granny takes a lick and is blown away. "That. That is fucking fine." She continues to marvel at the fact that this cake happened without any of the usual ingredients, and is especially excited for her grandson to see the results of her foul language and interweb searching. "He's gonna be so fucking happy!"
The verdict? "Glutton-free my ass. That's fucking delicious."