'Great British Bake Off' Announces Stacked Celebrity Contestant Line-Up
by Julie Scagell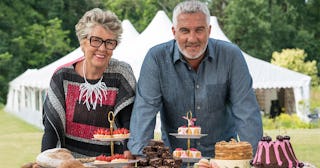 Mark Bourdillon/Love Productions/Netflix
Did someone say James McAvoy?
If you love Great British Bake Off and have watched every single episode of its 12 seasons (plus Christmas specials and other one-off shows) like me, you'll be thanking the Goddess of Baked Goods for this little tidbit: A special season of Great British Bake Off is coming this spring, and it's a celebrity edition.
Now that one of the main stars and hosts of the show, Prue Leith, has been vaccinated, the bakers are back in the tent; and this season we'll recognize many of them. The star-studded lineup, according to Deadline, will include Star Wars heroine Daisy Ridley and Atonement star James McAvoy. It will also include other actors, olympians, X Factor winners, and musicians. The best part is all the series' proceeds will go to Stand Up To Cancer, organization that raises money for cancer research.
No word on whether any of the contestants have actual baking experience, but honestly it may be more fun if they don't. At least it would look more relatable to those of us who suffer in the baking department. Hey, some of us do and some of us watch; it's all about balance.
This special edition of the show will be a five-part series that is set to premiere in the U.K. this spring and should be available to U.S. viewers shortly after, if history has anything to say about it.
Unfortunately, one fan-favorite host will not be in attendance. Noel Fielding, who skipped out on the Christmas special to spend time at home with his newborn daughter, will be doing the same for this series. Though we won't benefit from his antics and humor, other contestants include comedians John Bishop, Tom Allen, and David Baddiel, so don't worry about a lack of laughs.
Fortunately, Matt Lucas, Prue Leith, and everyone's favorite, Blue Steel Paul Hollywood will be hosting, so we are in good hands.
Sarah Lazenby, Channel 4's outgoing head of formats and features who run the show, said, "What we all need right now is more joy. Bake Off is serving up yet another dollop of fun courtesy of some very willing celebrities. We can't promise a huge helping of baking inspiration, but we can deliver some much-needed laughs."
Laughs are what we could all use more of these days. It's been a hell of a year and watching celebrities bake, sweat, get judged, sweat some more, and attempt to discern half-written recipes from the hosts feels just right. Plus, if you've pretty much watched all of Netflix and need something new to binge, this seems like the perfect show to do it.
There's not been a formal release date set, but "spring" could mean as soon as March, am I right?