The Trailer For Netflix's New 'Green Eggs & Ham' Is Here
by Leah Groth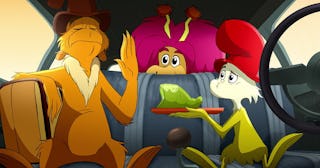 Warner Bros. Entertainment Inc./Netflix
Dr. Seuss' classic 'Green Eggs & Ham' is getting a postmodern makeover on Netflix
We are seriously obsessed with Netflix original programming. Not only has the streaming service (which got its start mailing us DVDs of our favorite movies way back in the day) responsible for our binge-watching sessions of Ozark, Stranger Things, and Orange Is the New Black, but Netflix has also provided our kiddos with so many shows to love. The great thing about Netflix's children's programming is that most offerings don't make us want to throw our television down a ravine. They are actually thoughtful, clever, educational, and much less annoying than the other unmentionable shows on the networks. Some of them are even tolerable enough that you might actually be tempted to watch them with your little ones. Well, the newest addition to their lineup definitely falls into their category. This week, Netflix dropped the trailer for their latest kids show, Green Eggs & Ham, and it seriously looks amazing.
According to Netflix, the adaptation of the Dr. Seuss classic is like a postmodern Planes, Trains and Automobiles — yes, the John Candy and Steve Martin film — through the whimsical world of the literary genius. Sam and Guy are the protagonists.
It features the voices of Adam Devine, Michael Douglas, Ilana Glazer, Diane Keaton, Keegan-Michael Key, Eddie Izzard, Jeffrey Wright, Jillian Bell, John Turturro, Tracy Morgan, and Daveed Diggs.
The plot goes something like this: It takes place "just past Whoville." Sam rescues the rare Chickeraffe from the Glurfsburg Zoo, hides it in a briefcase, and attempts to make his way to Meepville, where he can charter a cold air balloon to take the Chickeraffe to his island home. Guy just flopped his last big chance at being a world famous inventor for the industrial Snerz Co. He packs up his invention in a briefcase and resigns to give up on his dreams and become a paint watcher.
Sam and Guy's lives intersect during a chance meeting at a diner (over green eggs and ham, of course) where they accidentally switch briefcases. They then get mixed up on a journey of self discovery. "Along the way they cross paths with overprotective Michellee, whose daughter, EB, desperately wants a pet, and falls madly in love with the Chickeraffe… despite her mother's fears that it will eat off her face (it won't)," reads the synopsis. " Michellee's walled-up heart also connects with the heart-hardened, Guy. And, a laborious love story begins."
The foursome are also unknowingly pursued by a bounty hunter goat, two bad guys, and a villain who's out to get the Chickeraffee as his ultimate trophy — themes that might possibly be misunderstood by your kids, but will make it more interesting for you to watch along with them.
The series hits Netflix November 8, just in time for those "what should we do now that it's cold?" post-school afternoons.
This article was originally published on