Greta Thunberg Slams Amy Coney Barrett's Nonexistent Stance On Climate Change
by Leah Groth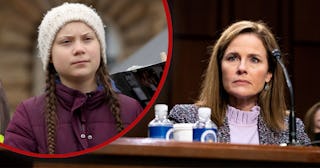 Adam Berry/Anna Moneymaker/Getty
Teen environmental activist Greta Thunberg called out the Supreme Court nominee's lack of stance on issues related to the environment
The majority of 17-year-olds spend their time studying for exams, hanging out with friends, and engaging in their high school's mock trials. Greta Thunberg, however, is not like most teens. The environmental activist, who has been nominated for not just one but two Nobel Prizes in her short time on this planet, is busy saving the planet from issues such as global warming. Instead of using her social media account to share cute selfies or whatever she is eating for breakfast that day, Thunberg utilizes it as a method to call adults out for basically being morons and ruining the planet for future generations. The latest victim to feel the wrath of the environmental influencer is non other than Supreme Court nominee Amy Coney Barrett, who tried to remain neutral and shy away from the topic of climate change during her Senate Judiciary Committee confirmation hearing earlier this week.
"To be fair, I don't have any 'views on climate change' either," Thunberg wrote on Twitter on Thursday, echoing the words of the judge. "Just like I don't have any 'views' on gravity, the fact that the earth is round, photosynthesis nor evolution … But understanding and knowing their existence really makes life in the 21st century so much easier."
When asked by Sen. John Kennedy (R-La.) about the issue of climate change, Barrett simply explained that she was "not a scientist" and therefore didn't have any "firm views" on the topic.
After feeling the heat, she continued to explain the following day that she didn't see her thoughts or opinions on the global health crisis as being relevant to her potential role as a Supreme Court Justice.
She also spat back at Sen. Kamala Harris of California, the Democratic vice presidential candidate, when she grilled Barrett on the topic.
"You have asked me a series of questions that are completely uncontroversial, like whether COVID-19 is infectious, whether smoking causes cancer, and then trying to analogize that to elicit an opinion from me that is on a very contentious matter of public debate," she said to Harris. "I will not do that… I will not express a view on a matter of public policy, especially one that is politically controversial, because that's inconsistent with the judicial role."
Harris later tweeted about the interaction. "Amy Coney Barrett will admit that COVID-19 is infectious. She'll admit that smoking causes cancer. But whether climate change is real? Apparently that's up for debate," she wrote.
Earlier this month Thunberg threw her support behind the Joe Biden and Harris ticket.
"I never engage in party politics. But the upcoming U.S. elections is above and beyond all that. From a climate perspective, it's very far from enough and many of you of course supported other candidates. But, I mean…you know…damn! Just get organized and get everyone to vote," she tweeted along with the hashtag "Biden."
This article was originally published on