Greta Thunberg Just Told Americans To Get Their Sh*t Together
by Madison Vanderberg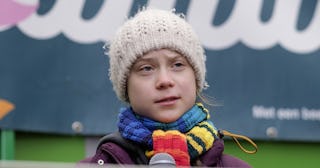 Thierry Monasse/Getty Images
Greta Thunberg tells American voters to "just get organized" and she's not wrong
Once upon a time, you could look to your elected leaders for guidance and education. Well, America is playing past all that as our country is being led by a COVID-infected maniac, so when it comes to truth-tellers, Zoomers have been forced to step up to the plate. 17-year-old climate activist Greta Thunberg, who is typically very diplomatic, uncharacteristically popped off on Twitter and point-blank told the U.S. to get its shit together if we have any chance of saving our planet, and oop, go off girl!
Thunberg — aware of what's at stake here from a climate standpoint — got on Twitter and threw her weight behind Joe Biden, writing, "Damn…just get organized and get everyone to vote #Biden."
"I never engage in party politics," Thunberg tweeted. "But the upcoming US elections is above and beyond all that. From a climate perspective, it's very far from enough and many of you of course supported other candidates. But, I mean…you know…damn! Just get organized and get everyone to vote #Biden."
She had me at "damn." Also, she's not wrong. The Biden-Harris campaign does need to get its shit together on whatever their stance is regarding fracking, but the Biden climate plan has been cited as extremely ambitious for a presidential campaign. Also, Biden is a normal politician who can be held accountable if his climate plan doesn't measure up and as we've witnessed the last four years, Trump cannot be reasoned with or held accountable, for anything! Additionally, I don't even think Donald Trump knows what climate change is. When he spoke to Californians about the wildfires recently, he said "It will start getting cooler," and okay? Oh, and if you need more convincing, Michael Mann, one of the most eminent climate scientists in the world, said that a second Trump term would be "game over for the climate."
Thunberg's shoutout follows in the footsteps of the magazine Scientific American endorsing a political candidate for the first time in their 175 year history. "The evidence and the science show that Donald Trump has badly damaged the U.S. and its people — because he rejects evidence and science," the publication stated. They say, Biden, on the other hand, "is offering fact-based plans to protect our health, our economy and the environment."
I'm not saying Thunberg is on the same level as Scientific American, I'm saying, a teenager is shaming our country for being such a damn mess and to quote the iconic teen activist, "Damn just get organized!"
And if you want to "get organized" there are a number of ways to do that. The easiest and most popular ways to help would be to donate to Biden's campaign or sign-up to phonebank or text-bank, which involves calling voters and basically reminding them to vote for Biden. I've done a few shifts and it's nerve-wracking for about the first three minutes, but then you get the hang of it. Now go vote!