Greta Thunberg Claps Back At Haters: 'Being Different Is A Superpower'
by Leah Groth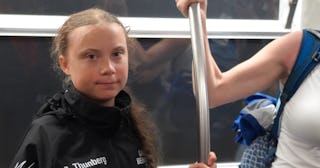 Selcuk Acar/NurPhoto via Getty Images
The 16-year-old environmental activist set her haters straight
16-year-old environmental activist and Nobel Prize nominee Greta Thunberg is a total badass. While many kids her age are texting with friends, playing video games, or hanging out at the mall, she is out there changing the world. She attends climate change summits, protests environmental violations around the world, and rallys other teens to do the same. Because no good deed goes unpunished, and because there are so many a-holes out there, some people don't like Greta. But instead of finding issues with the actual work she is doing, they have been saying nasty things about the way she looks.
Because she is a a true role model and basically the coolest teen in the world, she is using this hatred-spewing incident as an opportunity to teach the world a lesson. The Swedish teen faced her most recent backlash head-on in true role-model-style, opening up about her Asperger's diagnosis and sending a beautiful message about the power of being different.
"When haters go after your looks and differences, it means they have nowhere left to go. And then you know you're winning!" Thunberg wrote on Twitter and Instagram. "I have Asperger's and that means I'm sometimes a bit different from the norm. And – given the right circumstances –being different is a superpower."
She continued to explain the reason why she doesn't speak about her diagnosis very often. It's not because she is trying to "hide" behind it, but because she is worried about how "ignorant people" may respond. "I know many ignorant people still see it as an 'illness', or something negative. And believe me, my diagnosis has limited me before," she continued. "Before I started school striking I had no energy, no friends and I didn't speak to anyone. I just sat alone at home, with an eating disorder. All of that is gone now, since I have found a meaning, in a world that sometimes seems shallow and meaningless to so many people."
Her posts on Twitter and Instagram have since gone viral, and many people rushed to support Greta, who has become the face of the youth environmental movement by rallying teens around the world to protest. Most recently, she spent 15 days at sea to attend a climate change summit in New York City, where she rallied hundreds of young people to protest outside the UN.
"They are trying to humiliate you because THEY are so embarrassed. Because YOU have shown the world how pathetic, greedy and useless they all are," Jameela Jamil responded on Instagram. "They won't succeed in humiliating you because you're bigger than them. You're bigger than all of us. And we are all behind you, pointing our fingers at them with you. Thank you for your tireless efforts. You're going to win, and change the world."
"Amen to that. Don't let anyone stop you on your quest. The world needs you!" Princess Martha Louise of Norway wrote.
In case you are curious what provoked Greta's inspirational message, it was trolls being trolls and spewing idiotic hate.
Some ignorant idiot who thinks it is okay to critique children's looks responded to one of her recent tweets by comparing her head to a potato.
Some jerk even made a nasty video mocking her looks.
Attacking a child's looks is never okay, even if you don't totally agree with the message they are sending. While Greta's "school strike for climate" mission may not be universally supported, if you have a problem with it, attack the cause and not her looks!
This article was originally published on