This 16-Year-Old Climate Activist Has Been Nominated For A Nobel Prize
by Cassandra Stone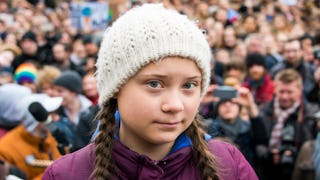 Image via Daniel Bockwoldt/picture alliance via Getty Images
Greta Thunberg is changing the world by getting us all to pay attention to the perils of climate change
A Swedish environmental activist has been nominated for a Nobel Peace Prize for her persistent, important work combating global warming. What's even more amazing than that is that Greta Thunberg, the nominee, is just 16 years old.
The announcement came earlier this week by Norweigan lawmaker Freddy André Øvstegård. "We have proposed Greta Thunberg because if we do nothing to halt climate change it will be the cause of wars, conflict and refugees," he told local news outlet VG. "Greta Thunberg has launched a mass movement which I see as a major contribution to peace."
Greta first gained national news attention six months ago, when she stopped going to school and started a lone protest against climate change outside the Swedish parliament building. After Sweden's hottest summer on record last year, she felt it was her mission to force politicians to act.
Ever since then, students around the world have been paying attention to Greta's example, and walking out of school in protest as part of her #FridaysForFuture campaign. A worldwide strike is planned for this Friday, with students from more than 100 countries expected to participate.
"We are living in a very interesting time, where something is going to happen," Thunberg told Rolling Stone. "Change is on the horizon, but to see that change we also have to change ourselves."
She's been incredibly busy this winter, too. In December, she spoke at the United Nations Climate Change Conference in Poland, and she also spoke at the World Economic Forum in Davos, Switzerland in January.
The reaction to Greta's nomination on social media has been a resoundingly positive one — especially from Thunberg herself.
Greta told the New Yorker last year that she has been diagnosed with autism, ADHD, and other conditions. She says that her activism serves a dual purpose — to call attention to climate policy and to showcase the potential those with neurological differences have. "I see the world a bit different, from another perspective," she said. "I have a special interest. It's very common that people on the autism spectrum have a special interest."
If she wins, Greta will become the youngest Nobel Prize winner in history. As of now, Malala Yousafzai still holds that honor — she won the prestigious award in 2014 when she was just 17 years old.
"I think we have reached a tipping point where enough scientists are telling it like it is and not being so afraid of being alarmist," Thunberg told New Scientist on Wednesday after the nomination was announced. She also says she's frustrated that people are so focused on her young age rather than her platform. "They talk about our age, our looks and so on," she continued. "The emissions are still rising and that is all that matters. Nothing has happened, that is crucial to remember."
If the past two years have shown us anything (and no, it's not a coincidence that Donald Trump took office little more than two years ago), it's that the kids are alright. Teenagers are more engaged and proactive than ever before. It's incredibly encouraging.
As for the environment and climate change, Thunberg is adamant that we take it seriously. "I want you to act as you would in a crisis," Thunberg wrote in an essay for The Guardian in January. "I want you to act as if our house is on fire. Because it is."