Greta Thunberg Says It's 'Extremely Likely' She Had Coronavirus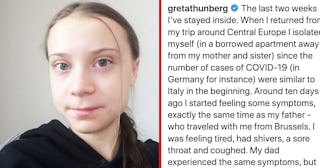 Greta Thunberg/Instagram
Greta Thunberg says coronavirus symptoms may be mild and to still take it seriously
Greta Thunberg revealed on social media today that she's put herself under voluntary self-quarantine after experiencing symptoms she believes were related to COVID-19. The activist revealed that when Germany's coronavirus cases began to increase and as Thunberg put it "were similar to Italy," she terminated her tour of activism around Central Europe and "isolated" herself, just to be safe. Then, she experienced mild symptoms and took to Instagram to release a PSA, alerting young people especially that although coronavirus symptoms may be minimal, you still have to take it seriously and stay inside to protect others.
"The last two weeks I've stayed inside," Thunberg shared online. "Around ten days ago I started feeling some symptoms, exactly the same time as my father – who traveled with me from Brussels. I was feeling tired, had shivers, a sore throat and coughed. My dad experienced the same symptoms, but much more intense and with a fever."
She added that in Sweden, like in America, you cannot get tested for COVID-19 unless you pass certain requirements or are in need of emergency care. "I have therefore not been tested for COVID-19," Thunberg wrote. "But it's extremely likely that I've had it, given the combined symptoms and circumstances."
After experiencing what she believes was coronavirus, Thunberg took this opportunity to plead with others that the symptoms can be much milder than expected but that doesn't mean you should take it any less serious.
"Now I've basically recovered, but – AND THIS IS THE BOTTOM LINE: I almost didn't feel ill," Thunberg said. "My last cold was much worse than this! Had it not been for someone else having the virus simultainously I might not even have suspected anything. Then I would just have thought I was feeling unusually tired with a bit of a cough."
"And this it what makes it so much more dangerous. Many (especially young people) might not notice any symptoms at all, or very mild symptoms. Then they don't know they have the virus and can pass it on to people in risk groups," Thunberg said. "We who don't belong to a risk group have an enormous responsibility, our actions can be the difference between life and death for many others."
Thunberg appealed to "young people," but there are individuals across all generations that refuse to take coronavirus and social distancing seriously and none of this is made better by the fact that President Trump continues to downplay the severity of the illness. If we can't listen to our world leaders, at least we can all agree to listen to the wisest teenager we know. Stay safe, keep your distance, and if you feel ill, please stay inside.
Information about COVID-19 is rapidly changing, and Scary Mommy is committed to providing the most recent data in our coverage. With news being updated so frequently, some of the information in this story may have changed after publication. For this reason, we are encouraging readers to use online resources from local public health departments, the Centers for Disease Control, and the World Health Organization to remain as informed as possible.
This article was originally published on