Greta Thunberg And Malala Yousafzai Finally Meet In Person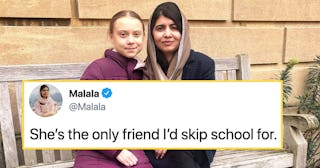 Malala Yousafzai/Twitter
Greta Thunberg and Malala Yousafzai meeting is all the inspiration we need
In a news cycle that's been a mixture of political attacks, convicted rapist Harvey Weinstein, and the coronavirus, we could all use something to smile about. Enter activists Malala Yousafzai and Greta Thunberg meeting for the first time and posting pictures together — giving us all the inspiration we need.
Yousafzai, the 22-year-old Pakistani-born education champion and human rights advocate, became the youngest Nobel Prize laureate in 2014. She's worked tirelessly in her own country to bring awareness to the educational rights of girls and women and was attacked by the Taliban while at school and shot in the head for speaking up.
Thunberg, the 17-year-old Swedish climate activist responsible for galvanizing the younger generation to work towards a more sustainable environment and put an end to global warming, has been nominated for the 2020 Nobel Peace Prize.
Together, they are magic.
The pair finally met in person while Thunberg was in the UK this week to join the school strike in Bristol. Yousafzai is currently an undergraduate student studying philosophy, politics, and economics at Oxford University, which is where the meeting took place between her classes because they have a world to run.
Thunberg and Yousafzai have always been in mutual admiration of each other's work. When Thunberg joined climate strikes in New York City last year, Yousafzai tweeted her support, saying, "I'm so happy to see that young women around the world are leading the climate movement. Thank you to girls like @GretaThunberg for using your voice, speaking truth to power — and encouraging other young people to do the same."
Thunberg responded back with all hearts, reminding us of just how young they are to have contributed so much to the world. And it's clear they are just getting started.
Yousafzai recently did an interview with Teen Vogue, saying in part, "There are hundreds and thousands of women and girls in all parts of the world who are standing up. Some of them we don't even know — their names would never be known — but they're changing their communities."
She also talked about youth activism, which Thunberg embodies, pointing out that movements such as Occupy Wall Street, Black Lives Matter, the Fight for Fifteen, March for Our Lives, Slut Walk, Youth Climate Strike, and others—have all been youth-led.
It's anyone's guess what they discussed but I'm sure it including plotting to save the world because, well, it needs saving. The amount of determination, intellect, and sheer will represented in the picture is awe-inspiring. Here's hoping it's the first of many meetings the two will have.
This article was originally published on