Greta Thunberg Exquisitely Shuts Down Protest Heckler
by Julie Scagell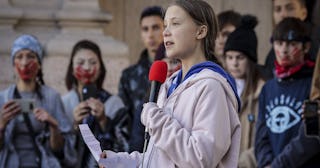 Marc Piscotty/Getty
Greta Thunberg does not have time for hecklers
Powerhouse activist Greta Thunberg is making headlines again, this time for providing some levity during one of her speeches on climate change. During a rally in Charlotte, N.C. on Nov. 8, the 16-year-old was interrupted by a heckler, and she drew a round of applause for her calm and no-nonsense response.
Thunberg was about four minutes into her speech when a heckler could be heard yelling something unintelligible off-camera. She listens, showing more maturity than him by actually letting him finish. She waits a beat, then says, "I think if you want to speak with me personally, maybe you can do it later." The crowd erupted, clapping and chanting her first name. We do not deserve this woman.
"It can be hard in times like these to find hope, I can tell you," Thunberg said before the interruption. "And I can tell you I have not found much hope in politicians and corporations. It is the people who are now our greatest source of hope."
The young activist has been traveling around North America to raise awareness about climate change and has been getting millions around the globe to join her in the fight against global warming, government accountability, and to raise awareness about what's happening to our planet. "While we young people may not be able to vote or make decisions today, we have something just as powerful," Thunberg said. "And that is our voices. And we need to use them."
Thunberg has been an inspiration since she began a singular effort to raise awareness by protesting in Sweden, her home country. She told Ellen DeGeneres earlier this month that, for her, there was no other option. "Once I fully understood, I couldn't just look away anymore," Thunberg said. DeGeneres also pointed out that after her single-person strike, more than 11 million people have joined in, protesting for international cooperation in reducing greenhouse gas emissions globally.
"It is we young people who are the future," she continued during her Nov. 8 speech. "There is not enough time to wait for us to grow up and become the ones in charge because we need to tackle the climate and ecological emergency right now. If the adults and people in power are too immature to realize that, then we need to let them know.
"Change is coming whether you like it or not," Thunberg added.
For more than a year, Thunberg has been attending Friday climate rallies in cities around the world, including outside the White House. In September, she attended the United Nations climate summit in New York City, speaking directly to world leaders and admonishing them for failing to do more to combat climate change.
"This is all wrong," Thunberg said during her UN speech. "I shouldn't be up here. I should be back in school on the other side of the ocean, yet you come to us young people for hope. How dare you."