Photo From 1898 Has People Convinced Greta Thunberg Is A Time Traveler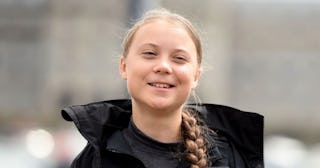 Finnbarr Webster/Getty Images
A photo from 1898 has people seriously convinced that Greta Thunberg is a time traveler
Over the last year, 16-year-old environmental activist and Nobel Prize nominee Greta Thunberg has become a household name. While other kids her age are desperately trying to gain fame as influencers on social media, playing video games, or hanging out at the mall, she is literally changing the world. Not only does Thunberg attend climate change summits, protest environmental violations around the world, and rally other teens around the world to do the same, apparently she also has time to time travel back to 1898. Because the world loves a good conspiracy theory, a new image taken 121 years ago has sparked some major internet chatter that the teen activist has actually travelled into the future to save planet earth.
The image, shot by Eric Hegg in the Yukon territory of northwestern Canada, surfaced from the University of Washington's Special Collections archive. It depicts three children operating a machine in a gold mine during the Klondike Gold Rush in 1898, and one of them could be Thunberg's twin.
People are so irked by the resemblance between the Swedish teen and girl in the photo, that they're actually convinced she has time-traveling powers.
One Twitter user even pointed out that the girl in the 1800s photo wore her hair exactly like Thunberg.
"So, 'Greta Thunberg' is in a photo from 120 years ago, and it's my new favourite conspiracy," wrote one guy particularly invested in the theory on Twitter. "Greta's a time traveller, from the future, and she's here to save us."
After several snarky comments to his post, he returned to defend the theory he has clearly spent time concocting.
https://twitter.com/jetpack/status/1197078261265776646
"To those saying 'How can she be in the past if she's from the future?!?' Obviously, as a time traveller, she can travel to ANY time period. She obviously tried to go back 120 years, didn't work, and now she's here. Obviously!"
Um, duh…
He also offered the suggestion that perhaps she traveled back in time to halt the invention of plastic.
Some people are suggesting that this conspiracy theory has everything it takes to become a blockbuster Hollywood film.
Not everyone was on board with the time traveler conspiracy, though.
And some people thought the photo was a fake.
However, according to the University of Washington, it is 100 percent real. In a blog post released by the University of Washington released Friday, they confirmed the legitimacy of the photo, asserting that accusations of it being a fake were "most definitely not the case." "As part of the UW Libraries Special Collections, the photo in question is an original," they wrote.
Whether Greta Thunberg is a time traveler or just an overachieving, superhuman Swedish teen sent by the powers above to save our planet from global warming, she is obviously here for a reason. And we so appreciate her.