Greta Thunberg Leads Kids In DC Climate Protest: 'If You Did Your Job, We'd Be In School'
by Julie Scagell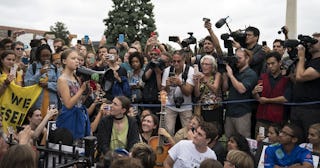 Getty/Sarah Silbiger
The 16-year-old took her activism to the White House this week, continuing to demand action on climate change
Powerhouse activist Greta Thunberg is making headlines again after protesting outside the White House this week, demanding the government do their part to help fight climate change.
Thunberg has been making the rounds, appearing earlier in the week on The Daily Show talking about the inaction happening in regard to climate change. She then set her sights on the White House, marching with other activists and continuing the important conversation about what is happening to our planet, USA Today reported.
The 16-year-old Swede and dozens of others chanted, "Hey hey, ho ho, climate change has got to go" as they marched. They also held signs reading, "Make Earth cool again," "Save the ice caps," and, "If you did your job, we would be in school."
The young environmental activist kicked off a movement in August 2018 when she sat in front of the Swedish parliament every school day for three weeks in protest. When she posted her actions on social media, she inspired other kids to do the same. She was also nominated for the Nobel Peace Prize.
Thunberg told the New Yorker last year that she has been diagnosed with autism, ADHD, and other conditions, saying her activism serves a dual purpose — to call attention to climate policy and to showcase the potential those with neurological differences have. "I see the world a bit different, from another perspective," she said. "I have a special interest. It's very common that people on the autism spectrum have a special interest."
Thunberg spoke outside the White House before a crown that gathered, saying, "I'm so incredibly grateful for every single one of you. Never give up. We will continue. See you next week on Sept. 20!" marking an anniversary for students to continue their fight for change.
Next week, Thunberg is organizing a worldwide climate strike encouraging students to leave school in protest, and just this past August she captured the world's attention when she set off from the United Kingdom on a zero-emissions boat voyage across the Atlantic. Thirteen days later, she arrived in New York holding a protest outside the United Nations headquarters.
"Why are we studying for a future we won't have?" the students chanted. "This is a crisis, act like it!" They also demanded "no more coal, no more oil, keep that carbon in the soil," and when someone mentioned the name Donald Trump, the crowd booed and yelled "Shame!"
After marching toward the White House, many of the protesters laid down on the ground for an 11-minute "die-in," calling it a "mass extinction." It represented the 11 years that scientists told world governments have to wipe out greenhouse gas emissions.
While she's here, Thunberg will also address the United Nations Climate Action Summit in New York on September 23rd.
This article was originally published on